Days after giving birth, first-time mom Coleen Garcia opened up about her experience with postpartum blues while breastfeeding her child with Billy Crawford.
In a series of posts on her Instagram stories, Coleen shared her journey which she described as "tough" but "incredibly rewarding" at the same time.
READ: Coleen Garcia, nanganak na
"I knew postpartum recovery was not going to be easy and I knew breastfeeding was going to be challenging. But wow, I never anticipated how hard it would be to go through both at the same time. I wish I could be stronger ASAP & move around better. It's been a tough few days, but also so incredibly rewarding," she wrote.
She went on to thank all the people who have shown her and Billy some love as they welcomed their bundle of joy. "Thank you to everyone who's been messaging us and sending gifts! We are grateful," she stated.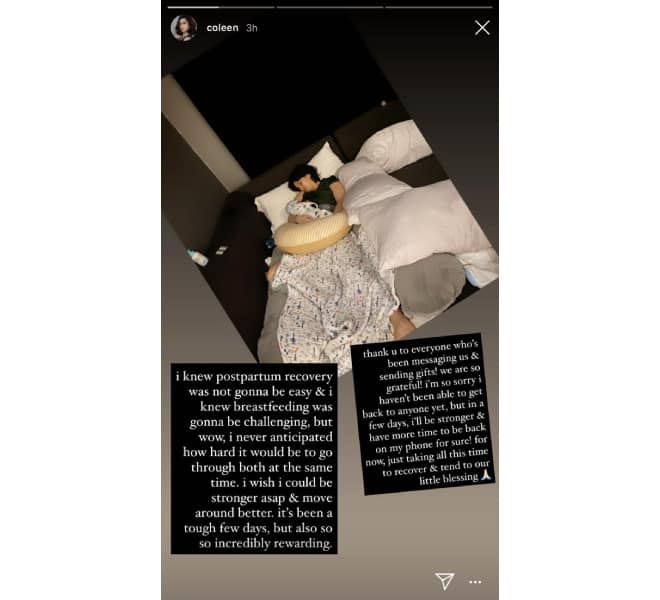 The Kapamilya star — who is still on her road to recovery — said she would respond to them as soon as she gets back on her feet.
"I'm so sorry I haven't been able to get back to anyone yet, but in a few days, I'll be stronger and have more time to be back on my phone for sure. For now, just taking all this time to recover and tend to our little blessing," she stated.
She also thanked her husband for staying by her side the entire time. "I'm at my most vulnerable right now, but you always remind me that what you see, is my strength and not my weakness."
READ: Billy Crawford thanks his 'strong, fearless, gorgeous, and loving' wife Coleen Garcia for baby Amari
For all her hubby has done for her, Coleen said she'd never make it without her loving husband.
"I can't tell you how much I appreciate you, love, I always have, but you've been on another level, taking care of both me and Amari the way you do. I am so blessed that it's you I get to do this with. You both make this all more than worth it."
She added: "Thank you for the never-ending patience, all the words of encouragement and for being so positive through all of this. Thank you for always speaking life into me. I'd be so lost without you."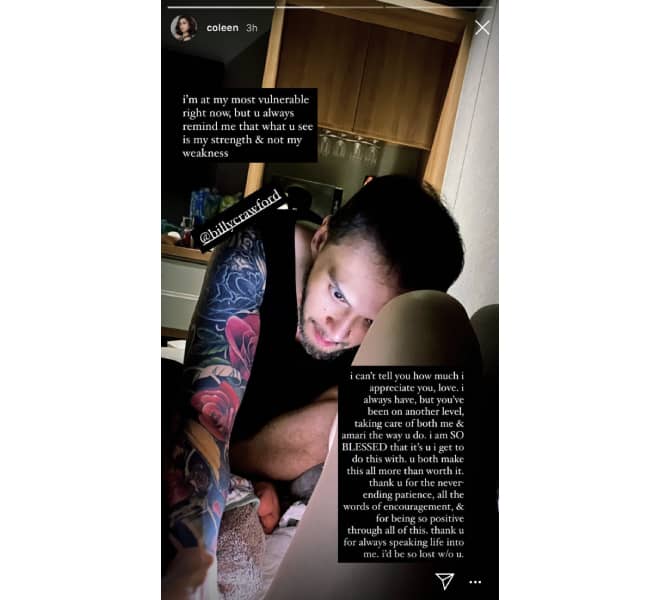 Meanwhile, Billy — in an Instagram post — shared a photo of Coleen while breastfeeding their son and penned a sweet message for them.
"These past few days have been the biggest life-changing experience I've ever had in my entire life! First of all, I can't thank God enough for blessing me with my AMAZING wife. I will do anything for you, my love," he wrote.
He added: "I'm so thankful for what you've done and sacrificed and continue to recover from. You are my Queen but I will always remember that God comes first and you're next! Amari is a beautiful gift we got from God. I love both of you so so so much."
Sharing how proud he is of his "creation," Billy added: "Can't be more in love! @coleen love we made that! Hehe. Too bad he looks nothing like me haha at least he looks like you, I'm good!"
Coleen Garcia gave birth at home via water birth.