Erik Matti bagged the award for Best Director of a Scripted TV Program at the inaugural ContentAsia Awards for his work in an episode of HBO Asia's original series Food Lore.
Erik directed the Island of Dreams episode of the series.
Island of Dreams tells the story of a mother who works as a domestic helper in Manila to give her family a brighter future. When she returns home for the fiesta of her hometown, she confronts the unanticipated changes in her family.
The main lead in the episode was played by Angeli Bayani.
As an entire series, Food Lore won the Best Asian Drama in the Regional/International Market category.
READ: Why is director Erik Matti scared to do films after the lockdown?
"Thank you #ContentAsia for the honor of winning the best director for our episode #IslandofDreams. Congratulations HBO Asia Eric Khoo Aini Sikkander for also winning best series in the region for our show #FoodLore. Thank you! I'm sharing this award with the whole cast and crew who worked hard on this personal story of mine," Erik wrote on his Facebook page.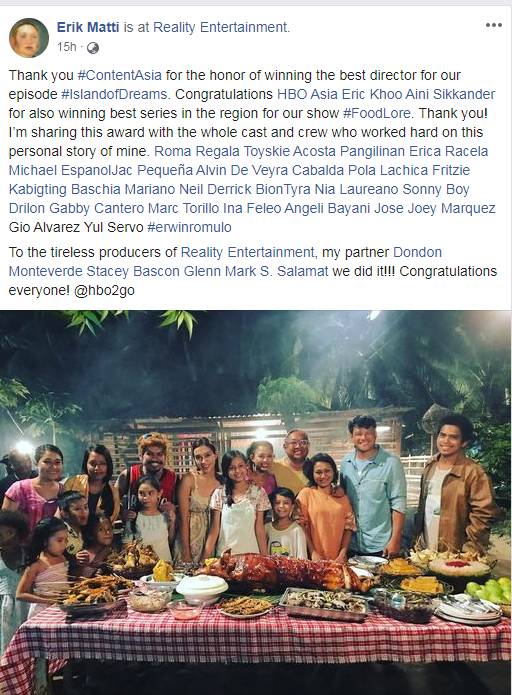 According to ContentAsia Awards, as "content consumption is sky high" and as "great content is in massive demand," it is high time to celebrate the best of it.