Actress and philanthropist Angel Locsin on Monday, August 10, said she wants long-term jail time without the possibility of parole for public officials who are found guilty of corruption. This statement was made in light of the alleged anomalies within the Philippine Health Insurance Corporation (PhilHealth), which have reportedly cost the agency billions in stolen funds.
Angel made the remark as she reacted to Senate Majority Leader Juan Miguel "Migz" Zubiri's call for "severe punishment" for PhilHealth officials and employees involved in corrupt practices after he allegedly uncovered more "money-making" schemes in the state-run insurance firm.
"I'm against death penalty," said Angel in an Instagram Story.
"But for the people who steal from the poor & sick, especially during a pandemic, you deserve the death penalty," she added.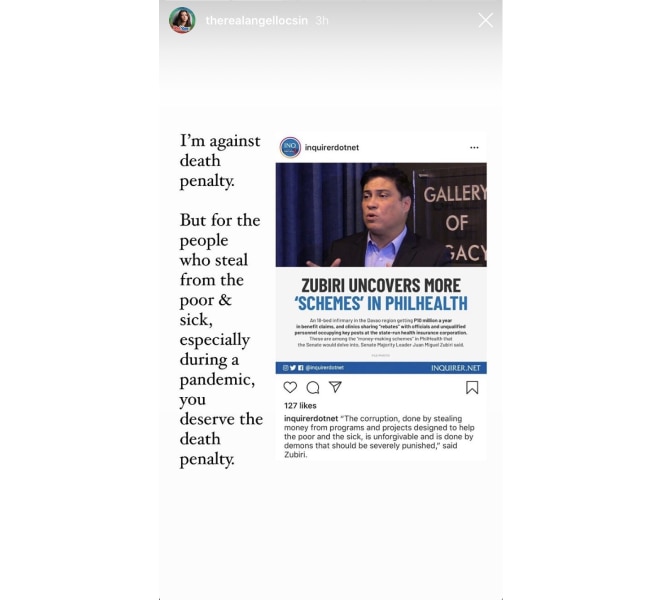 However, just a few hours later, Angel retracted her statement.
"Changed my mind," she wrote in a separate Instagram Story.
"Mahaba-habang pagkakakulong sa siksikan na preso, with no chance of parole [para] sa mga walang pusong corrupt officials," she said.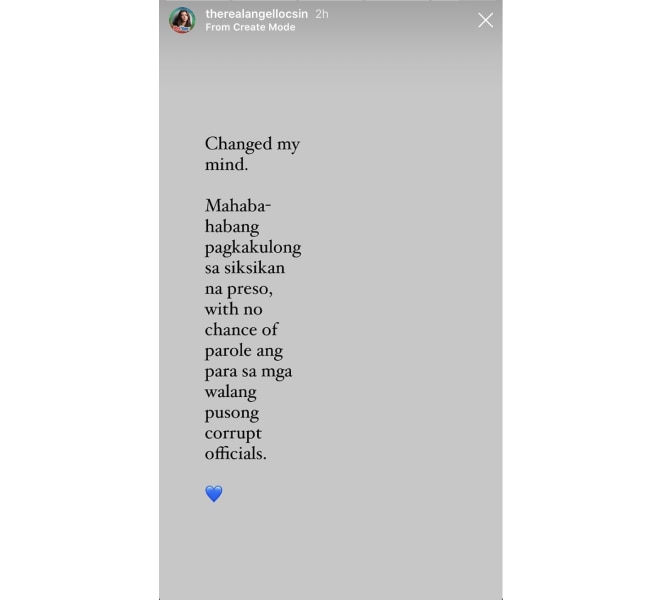 PhilHealth chief Ricardo Morales, along with other officials, are being investigated by Congress after resigned PhilHealth anti-fraud officer Thorrsson Montes Keith accused the leaders of the agency of pocketing around P15 billion in funds through various schemes.
President Rodriguo Duterte, meanwhile, said Monday, August 10, he would hold erring PhilHealth officials responsible. He has also created an inter-agency task force to investigate anomalies in PhilHealth.
He has, however, refused to fire Morales unless there is corruption evidence against him, according to the Malacañang.