In light of the fifth State of the Nation Address of President Rodrigo Duterte last July 27, Kim Chiu took to social media to share her own SONA. The Kapamilya actress remarked that the welfare of the nation should always be the top priority of the leaders governing the country.
"#SonaAll welfare ng tao ang iniisip mahirap man, middle class man or mayaman man. Mga tao muna bago ang sariling agenda," she said while posting a screenshot of an article from Forbes about women leadership.
Kim said that she just wants to express her opinion as a taxpayer of this country.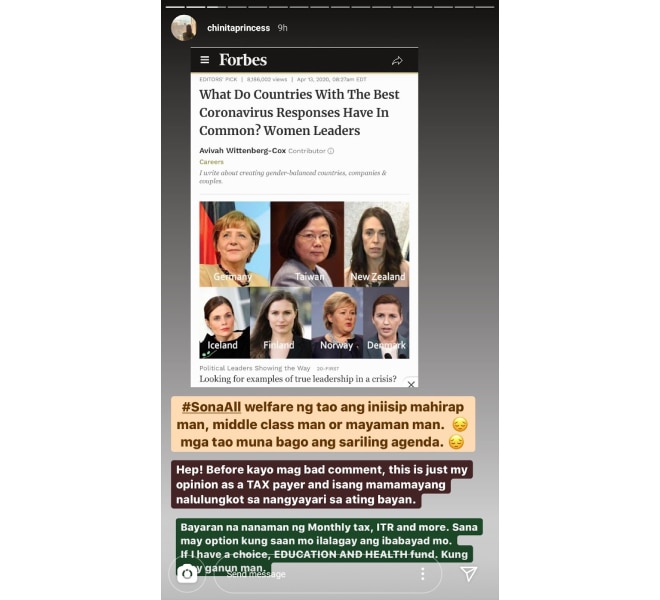 "Hep! Before kaya mag bad comment, this is just my opinion as a tax payer and isang mamamayang nalulungkot sa nangyayari sa ating bayan," she stated.
The Love Thy Woman star said that if she has a choice, she would allocate her tax payment to education and health.
"Bayaran na naman ng monthly tax, ITR and more. Sana may option kung saan mo ilalagay ang ibabayad mo. If I have a choice, education and health fund. Kung may ganun man," she stated.
Recently, Kim also offered a prayer for the nation amid the growing cases of COVID-19 pandemic in the country and the shutdown of ABS-CBN that lead to the retrenchment of the network's many employees.
"Since the start of this year so many things happened, 2020 made our faith grow much stronger than ever. We don't know what tomorrow will bring us. What we will be facing in the next few months, we are just crossing half of 2020," she wrote on her Instagram page on July 22.
"Everyday I wake up there is always fear inside me, fear of COVID-19, fear of my 2nd home being shut down by the government, fear for my co workers who have lost their job not because of the pandemic but because of unjust treatment, fear for my families health, fear for what will happen to us in the coming months with covid19 case, still going up estimated 85k by the end of July. Fear for so many people that are starving right now. There is so much going on."
"But I know, HE can hear us, HE can see us, HE will provide for us. We must not give up our faith in HIM. It is hard, this is a test of faith," she wrote.