South Korean artist Lee Jin-ki, popularly known as Onew of K-Pop group SHINee, has been discharged from the military a year and a half since he enlisted in the mandatory training.
SHINee, in a tweet, shared a photo of Onew fresh from his discharge and wrote: "Congratulations to SHINee's leader, ONEW!"
2020 ONEW'S BACK! 🐰
SHINee의 리더 ONEW의 전역을 축하 합니다! 🎉

지금 바로 ONEW의 메시지👇를 확인 하세요!
🏠 https://t.co/kVx0p6fVcA#온유 #ONEW #샤이니 #SHINee #빛나는샤이니#ONEWisBACK #2020_SHINeeisBACK 💎 pic.twitter.com/ikmnHKCUaz

— SHINee (@SHINee) July 20, 2020
In a handwritten letter addressed to his fans, Onew thanked all his fans who patiently waited for his return.
He wrote: "How have you been? This is SHINee's leader Onew. Thank you for waiting for me while I was serving in the military. Let's try to meet more often! Let's have fun and sing together for a long time!"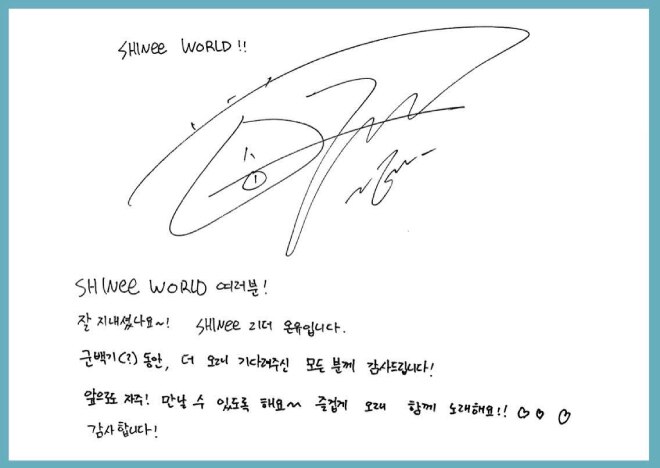 Meanwhile, in an audio message posted on the official website of SHINee, Onew said he would never have returned healthily from the service without the support of his fans.
"I wanted to meet and greet you personally on a day like this, but this is how I'm saying hello. It was thanks to SHINee World's support that I was able to return healthily from my service," he said in a message as translated by Soompi.
Onew went on to say that he would work even harder for his supporters and promised to see them soon.
"I will work hard to impress even more since you waited for me with so much love. Please wait just a little bit more. This has been SHINee's Onew. See you soon," he stated.
The 30-year-old singer officially enlisted in the military in December 2018 and has since served as an active-duty soldier.
Having been the first member of SHINee to be released from service, fans might have to wait a little longer before new music from the group comes out as Minho and Key are still serving the military. Taemin, on the other hand, has yet to enter the military.
SHINee, one of the foremost K-Pop groups during the mid-2000s, debuted in 2008 as a five-piece group but eventually became a four-member act following the death of one of the members, Jonghyun, in 2017.
Just a month before he entered the military in 2018, Onew debuted as a solo artist through the release of his debut EP "Voice."