The appeal of Julia Barretto and her sisters, Dani and Claudia, to help address the issue of overcrowding at Metro Manila hospitals has led to a construction of a quarantine facility for novel coronavirus disease (COVID-19) patients at a medical center in Quezon City.
Photos of the ongoing construction of an emergency quarantine facility at Fe Del Mundo Medical Center, a project by architecture firm WTA Design Studio which they helped fund, were shared by the celebrity siblings on Instagram over the weekend.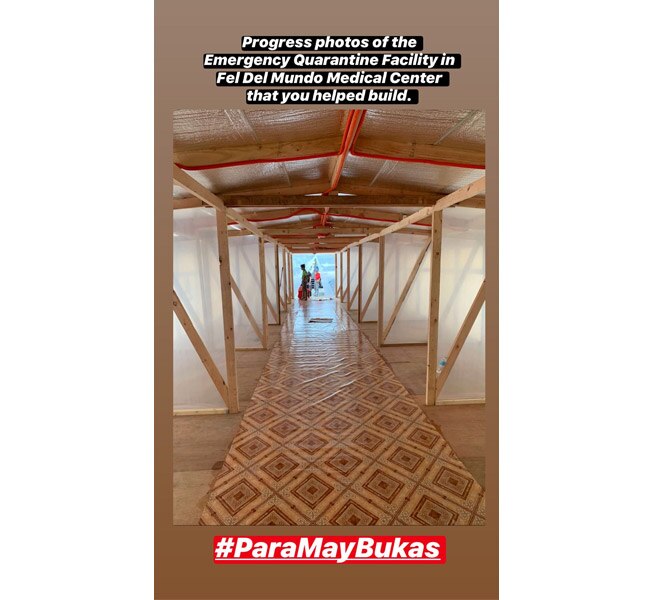 (From Dani Barretto, screen grab by ABS-CBN News)
The Barretto sisters launched the fundraiser, dubbed #ParaMayBukas, last April 4, as reports of overcrowding at hospitals due to the surge of COVID-19 cases emerged.
In just a week, the fundraiser reached P651,952.22, past its goal of P600,000.
On WTA Design Studio's website, each 6x26-meter facility is said to have 15 beds and two toilets, with airflow that is directed from front to rear through vents to prevent recirculation.
According to the architecture group, they are aiming to build more quarantine facilities in 59 other sites with the help of donations.
Meanwhile, the Barretto siblings said that the remainder of the money they raised will be used to procure personal protective equipment and provide meals to builders and volunteers.
The Philippines as of Monday afternoon, April 13, has recorded 4,932 COVID-19 cases, including 315 deaths and 242 recoveries.