Amid the health crisis that has shaken the world, some celebrities have been utilizing their following and influence to spread awareness about essential topics that could help alleviate the spread of the virus and suppress its impact on the community.
Love Thy Woman star Richard Juan recently posted an informative video demonstrating why face masks should not be sprayed with alcohol and be reused. The said video has gone viral on social media and has already amassed more than 2.5 million views cumulatively across social media platforms as of this writing.
Celebrities like Liza Soberano, Maine Mendoza, and Maris Racal also shared and retweeted the video.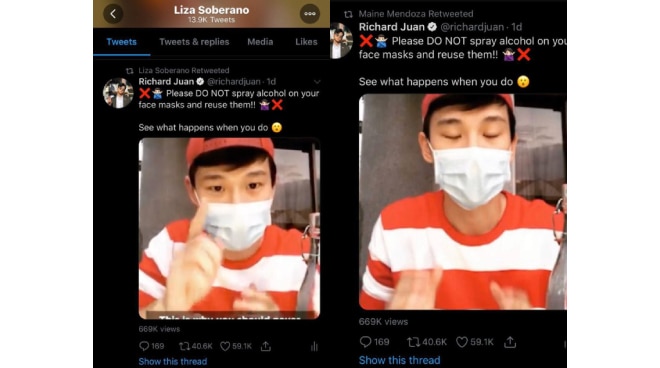 In an interview with PUSH, Richard relayed the story behind his trending clip. "I made the video because I read that people have been reusing surgical masks because there is a severe lack of supply and they are also extremely overpriced now. I did not expect it to go 'viral' but I'm honestly just happy to help raise awareness," Richard remarked.
The actor-host added that he wanted to share helpful information especially at a time when protective gears are widely used to combat the transmission of COVID-19.
❌🙅🏻‍♂️ Please DO NOT spray alcohol on your face masks and reuse them!! 🙅🏻‍♀️❌

See what happens when you do 😮 pic.twitter.com/V2sQCrJ4Wz

— Richard Juan (@richardjuan) March 25, 2020
"I've always been told by my friends in the medical field that surgical face masks should only be used once. Then I remembered a friend who is a nurse showing me this 'trick' a couple of years back to demonstrate the effects of spraying alcohol, so I thought it would be a great way for me to raise awareness and make it more understandable for everyone," he stated.
Richard highlighted that before posting the video, he spent time researching and found studies which extensively explained the effect of alcohol on face masks.
"I saw an article from Taiwan that showed a professor demonstrating the same thing. It explained that the waterproof coating of the face mask gets dissolved by the alcohol, causing the water to pass through it. Furthermore, I also found a test conducted by the Hong Kong Consumer Council, which shows microscopic images of the effects of spraying alcohol to face masks," he relayed.
WATCH: Richard Juan demonstrates why you should not spray alcohol on a face mask and reuse it
According to the said test by the HKCC, an examination under an electronic microscope revealed that spraying 75% alcohol hand rub causes the outer layer of a surgical mask to be damaged and as a result, the mask loses its filtration and water-resistant functions.
"The bottomline is do not reuse surgical face masks that are meant for one-time use only," Richard said.