Various Filipino celebrities made it to Forbes Asia's 100 Digital Stars list this year.
According to Forbes, the list puts the spotlight on Asia-Pacific's "most influential celebrities on social media."
Included in the list are Kathryn Bernardo, Angel Locsin, Anne Curtis, Vice Ganda, Sarah Geronimo, Kim Chiu, and Marian Rivera.
Kathryn took to social media to express her gratitude to Forbes Asia for hailing her as one of the Digital Stars.
"Thank you @forbesasia for including me in your inaugural #100DigitalStars list! It's an honor to be mentioned alongside people who put their influence to good use, especially in these trying times where the digital platform plays a huge role in raising awareness and promoting positivity," Kathryn said.
READ: 'The Classroom Song' makes it to Forbes, Kim Chiu hailed as one of Asia-Pacific's 100 Digital Stars
Angel also reacted to her inclusion in the list.
"Words can't express how deeply humbled and honored I am to be included in Forbes Asia's List of 100 Digital Stars in the Asia Pacific Region as one of the representatives of our country," she said on social media.
The actress remarked that it is an honor to be recognized by Forbes Asia.
Angel wrote, "I have always looked up to Forbes and I'm in awe to be put in the same light with my Asian-Pacific contemporaries whom I admire."
READ: Kathryn Bernardo on turning 24: 'Do more of what makes you happy'
She continued, "Thank you, Forbes, for this platform wherein we can give back to the people who enabled us to be where we are today and to hopefully inspire others as well to do their part to the best of their ability to improve the lives of others. Because a small gesture can create a ripple effect if we can influence others to do the same. Once again, thank you for this great honor, @forbesasia."
Meanwhile, Anne thanked Forbes Asia and her followers for this new recognition.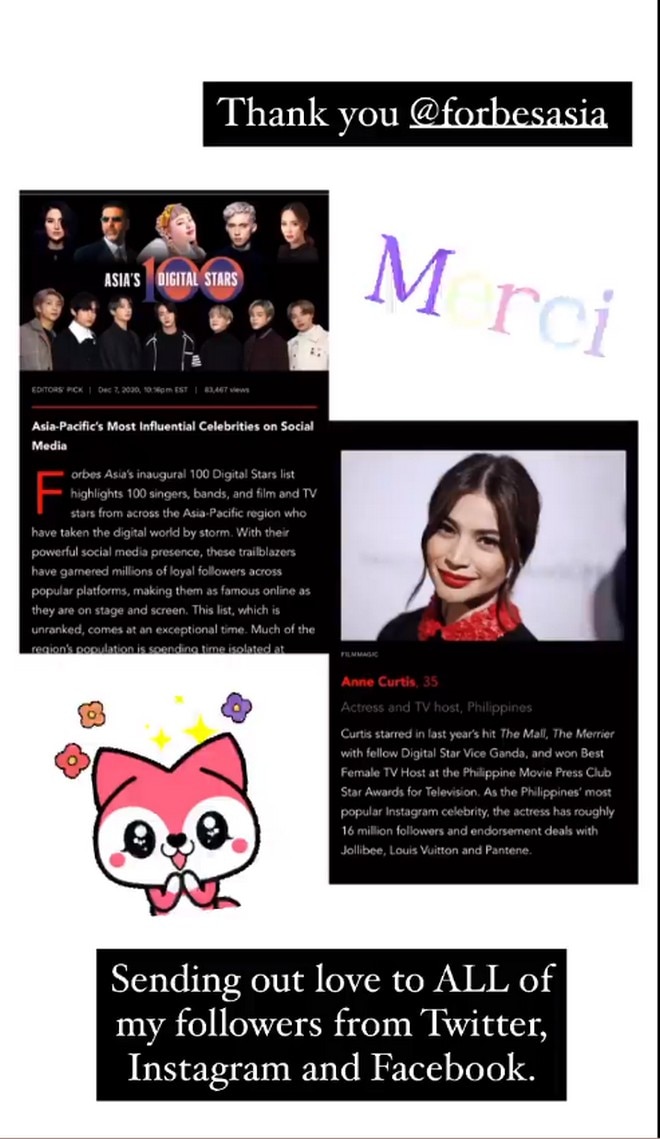 "Thank you @forbesasia. Sending out love to all of my followers from Twitter, Instagram, and Facebook," the It's Showtime host stated.