Miss Universe Philippines Rabiya Mateo and 2nd runner-up Michele Gumabao were spotted together at a relief program on Wednesday, November 4, after controversies surrounding the pageant made headlines.
The two beauty queens alongside the other candidates who belonged to the top 5 took part in a relief operation for the benefit of the victims of Typhoon Rolly in Bicol.
Frontrow president RS Francisco shared a snapshot of Rabiya and Michele sitting next to each other and repacking rice together.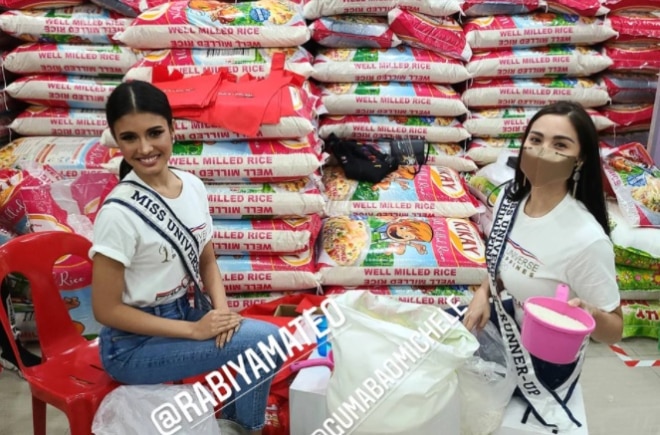 Photo credit to @rsfrancisco888 Instagram Story
Meanwhile, Rabiya shared snapshots of their relief activity on her Instagram page. The beauty queen relayed that they packed food items for the victims of the recent calamities.
"Bangon Bicol because Frontrow cares. Together with my MUPH sisters and Kuya @samverzosa and @rsfrancisco888, we were able to repack thousands of sacks of rice and canned goods for the benefit of the victims of Super Typhoon Rolly in Bicol region. Babangon at babangon ang Pilipino basta mag kakasama tayong lahat sa anumang hamon ng buhay!" she said.
It can be recalled that Michele recently released a statement regarding her experience in the Miss Universe Philippines pageant following accusations thrown her way.
"All the stories and all the issues that people were making up, I just couldn't believe it. I couldn't believe that people are capable of such things, that we're in this beauty pageant, joining because of our dreams, because we want to empower people but it's so toxic. The industry, the fans, the bashers, the criticism. I was not hurt," she said in her vlog.
She added, "I was not angry. But I was sad because so many girls just like me dream of this platform, dream of this position because we know it is meant for something good, but so much people who aren't even connected to the organization are just trying to tear everybody down."
Meanwhile, Rabiya was also hounded by accusations regarding her win in the pageant back in October and addressed the said issues.
READ: Miss Universe PH Rabiya Mateo reveals: 'My goal was just to reach Top 5'
"To be honest po, maybe I wasn't a frontrunner so people didn't expect me to win and now that I have the crown... I'm sorry I'm being emotional. They're questioning my capability as a person, as a candidate… but I know that I did everything and anything that I could during that night and ibinigay ko talaga," she said in her interview with MJ Marfori in October.
"And yung mga nagsasabi na the question was given to me that's why I answered that way, it wasn't given po sa akin. I did everything that I could because I want to make Iloilo City proud," she remarked.