In line with her NGO Mesa ni Misis's advocacy since its founding in 2017, Juana Manahan-Yupangco's new cookbook Mesa Ni Misis: A Guide to Cooking and Enjoying Native Filipino Vegetables. advocates teaching Pinoys how to enjoy a local plant-based diet.
The 40 featured recipes in her book about making soups and appetizers, entrees, rice, noodles, desserts, and drinks are budgeted affordably from P250-300 and are perfect for families who want to eat healthy and support local farmers.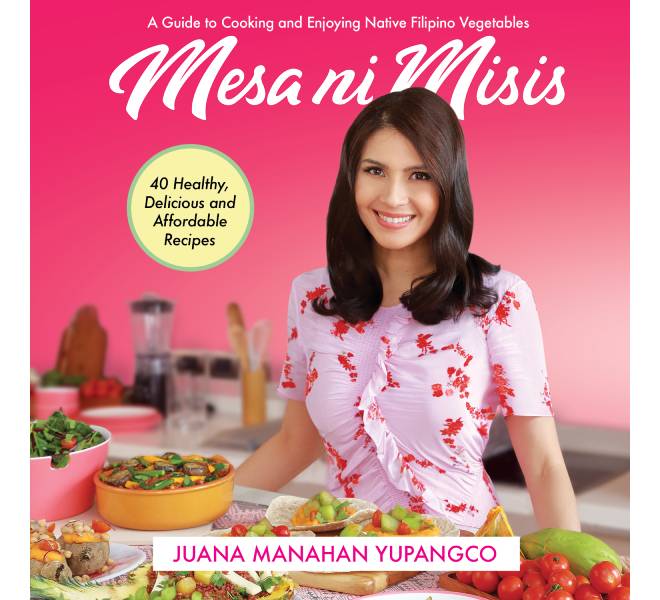 "We really aim to create for you a Bahay Kubo kitchen. I think that's what makes Mesa ni Misis and this book really different from other books out there is we really focus on creating plant-based dishes using our local vegetables," the author shares during the Mesa ni Misis media launch held last October 22.
Juana said that it is very important for her to be able to spread their advocacy to create budget-friendly recipes and teach proper nutrition. "We've spoken everywhere from barrios and basketball courts and had the privilege of speaking at the senate to our lawmakers to explain why they should really support local farmers. We highlight the benefits of eating locally. We also collaborate a lot so in the first year we have been in restaurants with our local bistros to promote local vegetables. We work with hospitals and government institutions. We moved on to doing cooking classes, healthy eating lectures. Our hashtag is #PlantLasangPinoy when we were coming out with the book. Because that's really what we're trying to create here," she explained.
Currently taking up her Masters in Food Security, the daughter of former Star Magic head and director Johnny Manahan shares the benefits of why it is beneficial for all to adapt a diet using locally available vegetables. "It's good for the environment, it's good for the economy, and for ourselves. Our bahay kubo vegetables are things that are cheap, they grow all around us, and are available any time of the year."
Mesa Ni Misis: A Guide to Cooking and Enjoying Native Filipino Vegetables is now available on ABS-CBN Books' Lazada and Shopee stores and in leading bookstores nationwide for only Php 250.00. For more inspiration, like ABS-CBN Books on Facebook at www.facebook.com/abscbnbooks and follow it on Instagram @abscbnbooks.