Local celebrities expressed solidarity with Liza Soberano after a military official warned the actress against keeping ties with women's rights group Gabriela Youth.
In a statement on Wednesday, October 21, Lt. Gen. Antonio Parlade Jr. told the public not to tag Liza as "NPA" as "she is merely advocating for women's rights."
READ: Pro-admin vlogger tags Liza Soberano as communist after speaking at Gabriela Youth webinar
READ: 'Hindi terorismo ang paglaban sa abuso': Gabriela defends Liza Soberano amid red-tagging
However, he also told Liza that she should cut ties with the group, otherwise, she could suffer the same fate as Josephine Anne Lapira, a 22-year-old student from University of the Philippines Manila who was killed in a clash between an encounter between government forces and the New People's Army in Nasugbu, Batangas in 2017.
"It's a pity she learned about non-sense things like nabbing a firearm, exploitation while already inside the ground. It was too late, she is dead. The choice is yours, Liza," said Parlade.
Speaking with ANC's Headstart, Perlade, the spokesperson of the government's National Task Force to End Local Communist Armed Conflict (NTF-ELCAC), denied that Liza's camp is complaining about him for red-tagging the actress, and claimed that they even thanked him for the information on the alleged communist ties of Gabriela Youth.
"In fact, I got a message, a call from Atty. (Juanito, Jr.) Lim yesterday," he said, referring to Liza's legal counsel. "...thanking me and informing me that they're sending a thank you letter to me personally for informing them about the nature of this organization, which they don't want their client to be associated with."
In an official statement Thursday, October 23, Lim denounced the controversial red-tagging of the actress, which began after she participated in an online talk hosted by Gabriela Youth.
READ: Liza Soberano's counsel releases statement on red-tagging issue
"We denounce in the strongest terms the 'red-tagging' of our client, Ms. Liza Soberano, in some social media platforms. Expressing her love and respect for women and children is her personal advocacy," the statement read.
It also stressed that the 22-year-old actress remains to be apolitical.
READ: Atty Jun Lim, legal counsel of Liza Soberano, denounces the red-tagging of his client. He added, Liza remains apolitical. | via @mjfelipe pic.twitter.com/3aA3CWbniI

— ABS-CBN News (@ABSCBNNews) October 22, 2020
"She does not support not antagonize any person's political views. The important point here is respect for others, a virtue she has conscientiously practiced all her life," continued the statement.
"We, thus, call on everyone concerned to be circumspect in associating our client with their respective political beliefs, whatever it may be," it added.
Amid the controversy, several celebrities took to Twitter to defend Liza. Among them were her talent manager Ogie Diaz, former Quezon City Mayor and actor Herbert Bautista, veteran broadcasters Karen Davila and Ces Drilon, actresses Angel Locsin, Agot Isidro, and Jasmine Curtis-Smith.
Here's a look:
I support Liza and Catriona. https://t.co/eWIRQIcC7v

— Ces Oreña-Drilon (@cesdrilon) October 22, 2020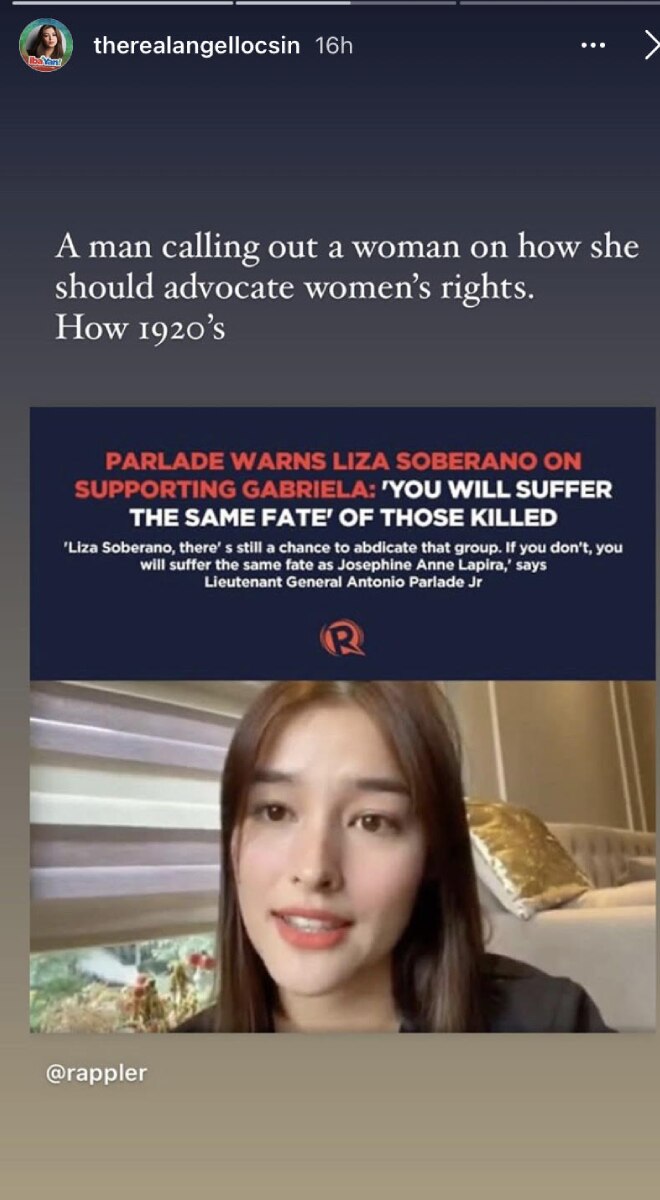 this sounds like a threat.

a very serious and dangerous one. https://t.co/HXbDdFGqBI

— Agot Isidro (@agot_isidro) October 22, 2020
Don't fear 'red-tagging'? Start with this.

Stop harassing Liza Soberano. This is outright ridiculous and a waste of taxpayer's money.https://t.co/D5lCGvk9PO

— Karen Davila (@iamkarendavila) October 22, 2020
I stand with Liza Soberano, Catriona Gray, Angel Locsin, and Gabriela.

To all those speaking up for the rights and welfare of women and girls (or anyone else!), keep on going!!! THIS IS NEEDED. #DefendFilipinoWomen

— Jasmine (@jascurtissmith) October 22, 2020