A pro-administration vlogger labelled actress Liza Soberano as a member of a communist front after the latter participated in a webinar organized by the youth arm of women's rights group Gabriela.
Liza was one of the guest speakers in Gabriela Youth's "Tinig ni Nene: Reclaiming Our Voice on the International Day of the Girl Child," where she, as a "Young Woman Influencer," talked about "raising awareness and creating a safe environment for young women amid the pandemic."
READ: Liza Soberano becomes emotional as she talks about standing up for the voiceless
"LIZA SOBERANO, MIYEMBRO NA NG NEW PEOPLE'S ARMY?" read the title of the YouTube livestream held by vlogger Maui Becker on Wednesday, October 14.
In the livestream, which included snippets of Liza's speech, Maui slammed the actress for "joining" Gabriela Youth, which she alleged as a front group of the Communist Party of the Philippines (CPP) and the New People's Army (NPA).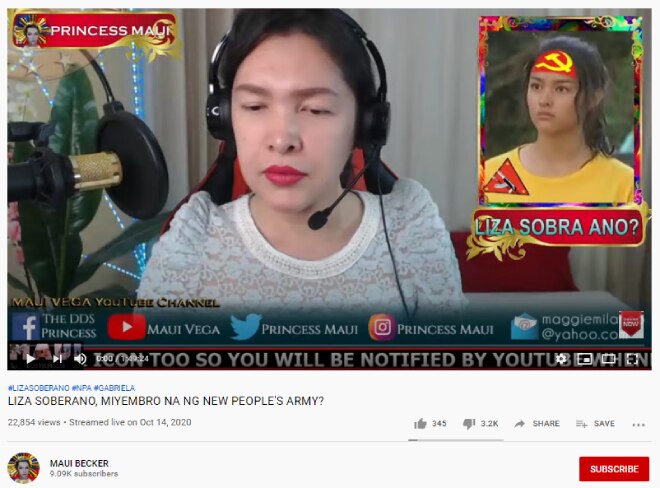 "Intindihin mo na lang ang trabaho mo. Pero sige, kalayaan mo 'yan pero make sure lang na knowledgeable ka sa mga bagay-bagay," the vlogger said in the video, as reported by Inquirer.net.
"Eh ngayon mukhang wala kang alam na 'yung Gabriela ay salot sa lipunan, miyembro ng mga terorista at komunista, rebelde, NPA, front ng NPA. At wala kang ka ide-ideya. E kung ganyan na wala kang kaalam alam Liza, e manahimik ka. At hands off our children, Liza, you stupid b****," she went on.
As of writing, the video has garnered over 18,000 views, with 330 likes and 2,900 dislikes, and a flood of comments defending Liza.
"This is low and uncalled for. Calling Gabriela, an organization that supports and protects women and children in vulnerable sectors, a leftist front and associating Liza Soberano with that though is red-tagging. This malicious behavior SHOULD be mass-reported to YouTube," one commenter said.
"Red-tagging! Report and will send this to Liza's management para makapag-file ng libel," another added.
This isn't the first time that a netizen has attacked Liza for speaking out on several national and social issues.
READ: Would Liza Soberano consider running for public office?
Last month, a Twitter user called her "boba" after she questioned President Rodrigo Duterte's decision to grant absolute pardon to Joseph Scott Pemberton, a US Marine convicted of killing a Filipino transgender in 2014.
READ: Liza Soberano, pumalag matapos sabihan na 'boba' ng basher
READ: Liza Soberano condemns absolute pardon grant to Pemberton
"So a murderer was just released for good conduct," Liza wrote on Twitter. "Are we supposed to just forget that he killed Jennifer Laude because he's done some good?"
"Nakakaiyak na sa disappointment," she wrote in a separate tweet. "You think this murderer (I'm not even gonna say his name) wasn't treated fairly but, was it fair that Jennifer Laude was murdered out of hate just because of her sexual orientation?"
A user then called Liza stupid and told her to stick to acting.
"Ang boba pala ng babaeng ito. Now naniwala na talaga akong acting lang ['yong] kunwaring matalino [siya]," said the netizen. "Stick to your craft girl. [Huwag] masyadong pahalata na wala kang alam sa basic comprehension on laws & current events."
To which, Liza sarcastically replied: "Ouch ang sakit nasaktan ako."
Just last month, Liza filed a court case against an internet service provider company employee for making a rape comment about her.
READ: Liza Soberano formally files complaint vs netizen who made a rape remark against her
Other issues Liza—one of the more outspoken celebrities in the Philippines—has lent her voice to include the forced shutdown of her home network, ABS-CBN, the anti-terror law, and the current administration's response to the coronavirus pandemic.