Janella Salvador has had enough of being the subject of gossip and speculation.
On her Instagram Story on Wednesday, October 14, the 22-year-old actress revealed that she has blocked people "who have no respect and have nothing else to do but gossip."
She said that from now on, she is "only allowing positivity in [her] space."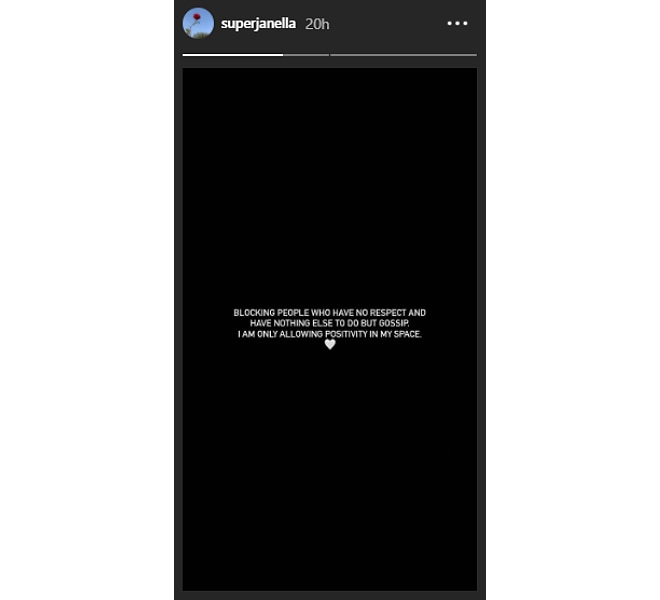 This, less than an hour after she shared a post promoting a local shop, where fans called her a "hot momma" and noted how she deliberately "hid" her tummy in the photo.
Janella's supposed pregnancy has been the subject of speculation on social media and news websites since last month.
A September 17 report from PEP.ph claimed that she is expecting with her boyfriend, actor Markus Paterson. Citing an unnamed source, it added that Janella is expected to give birth this October, and that close friends of the actress know about the pregnancy.
READ: Is Janella Salvador pregnant? Netizens speculate
However, Markus was mum on the rumors when he recently opened up about his almost two-year relationship with Janella in the vlog of their friend, Kyle Echarri.
READ: Janella Salvador and Markus Paterson confirm their relationship with some sweet photos
In the video, Markus said he could not live without Janella, saying she is the love of his life.
"I've never been in love the way I am. I've never felt the love that she makes me feel. ...There is no one or thing that could make me look at another woman the way that I look at her right now," the 22-year-old actor said.
"Like, it's not even fair to my family how much I'm in love with this woman. Because I would put her above anything else. To the vague question why I'm still with her, it is because I couldn't live without her. That's as simple as it is," he added.