Actress Barbara Ruaro caught the attention of her followers after sharing a series of posts about physical abuse recently.
On Friday, the Abandoned star posted on Instagram a photo of what appears to be a cut and bruises on her eye as a result of domestic abuse "done by someone I loved and cared for deeply."
"This happened to me yesterday, on top of other cuts, bruises, and almost a year of psychological manipulation," she said.
"Domestic violence is not limited in terms of bruises. Psychological, verbal, and sexual abuse are also considered. I experienced all sorts of abuse under the hand of a narcissistic man. The vicious cycle he has created for himself and others should be put to a stop. I will share my story soon," she added.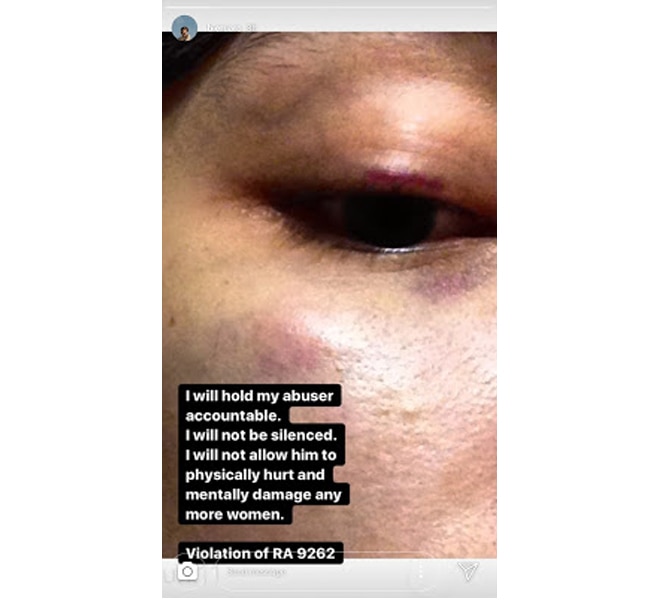 In a separate post she shared on Sunday, Barbara revealed more bruises on her body as evidence of the domestic violence from her abuser, who she said is still running free.
She wrote, "Some people have told me not to dwell and just move on. Some people have suggested that exposing his name to the public will bring me instant gratification. Some people think it's my fault because I stayed, kept silent, and enabled him... I promised myself if I'm going to fight for this case, I'm going to do it right. The series of photos posted are just half of the damage done to my body. The internal wounds keep me up night, while my abuser is still running free. Time and time again, I was made to feel everything was my fault. That if he treated me badly, it was because I deserved it. That everytime I reacted negatively to his abuse, it was a result of my PTSD and not the abuse itself.
"He used my weaknesses against me, brainwashing me into believing no one will ever understand me like he does. He asked me several times to quit my career and just devote my life to him. He said we have dreams to fulfill, and don't I ever leave or he will commit suicide. I wasn't allowed to leave the room, even if he broke things in front of me with his hands. I was isolated from my friends and family, and the only chance I'd get to see people was if I needed to be at work. And that was just the beginning."
Barbara said that she's currently in the process of healing, with the help of her faith, family, and friends who keep her going.
"I am healing and processing; it doesn't just end when you walk out the door. My self is my top priority now. My faith, family, and friends are what keep me strong, especially during [the] days when I get the sense that all hope is lost," she said.
"I am very very afraid, but I won't be silenced by the fear he has instilled. Not this time. I will make sure justice is served. Thank you to all those who have been there for me through these trying times. I wouldn't know what to do without you guys. Maraming salamat sa inyo," she said.