After years of searching, a Filipino fashion designer was surprised to find his missing archive dress being worn by the Miss Universe Philippines 2019 Gazini Ganados in a fashion campaign last July.
Lesley Mobo, a London-based designer, recently took to social media to air his frustration over not being made aware that his creation, which he has been looking for since it went missing in 2015, would be used for the shoot.
"What would [you] do if [you] find your missing archive dress suddenly being worn by a beauty queen and [you're] not even aware of it… and not even credited? I think she looks good on it but could do with a bit of help," he said.
"Been looking for it since 2015 (how it landed there?). How can I get it back? Should I buy it back? Can I even buy it back?" he added.
Screenshot by PhilStar
A photo of Gazini wearing the sequined, beaded gown can be found with a quick scroll on her Instagram page. In her caption, celebrity stylist Pam Quinones of Qurator Studio was credited for the styling.
Meanwhile, in a separate post, Lesley shared a screenshot of his dress being sold online via a shopping site without his permission.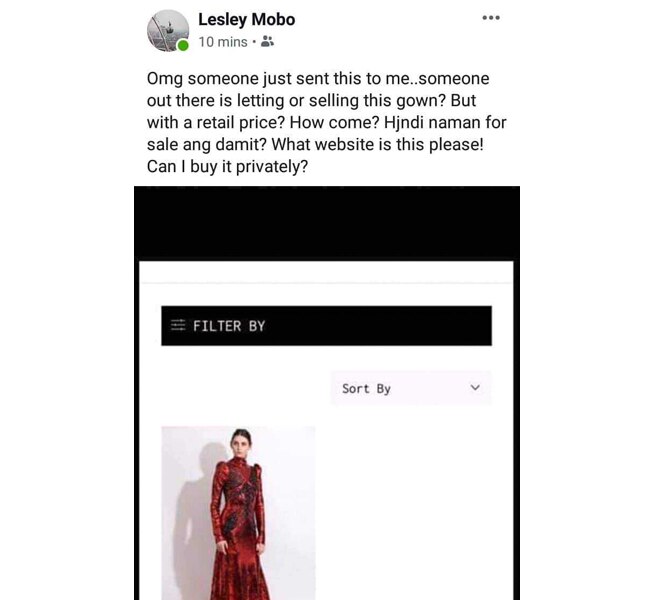 Screenshot by Philstar
He wrote, "OMG. Someone just sent this to me. Someone out there is letting or selling this gown? But with a retail price? How come? Hindi naman for sale ang damit? What website is this please! Can I buy it privately?"
However, Lesley has since taken down both posts since it was first posted on his Facebook account.