Dawn Chang recently surprised the public after announcing that she is no longer part of the all-girl group GT. However, this wasn't bad news for her avid supporters since she confirmed that she is still part of the noontime show It's Showtime.
Read: Dawn Chang on why she left GT: 'I am supposed to share my talent and entertain'
A netizen left a comment on her Instagram account asking if she's still part of the show since the group is part of It's Showtime.
"Awww, so wala ka na sa [It's Showtime]? Bilang ang GT (GirlTrends) is part ng It's Showtime," the netizen asked.

"I'm still part of Showtime," Dawn replied.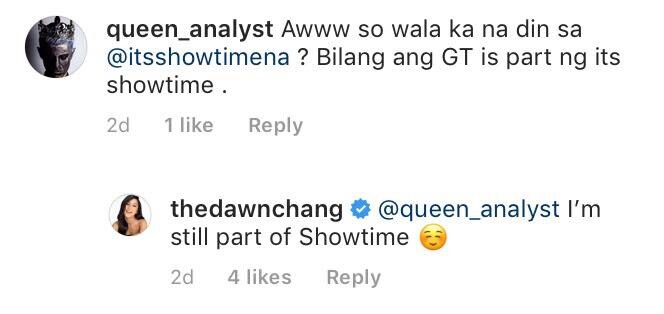 The TV host-dancer has been part of GirlTrends -- eventually called GT -- since they debuted on It's Showtime in 2016. Members of the group currently include Chienna Filomeno, Mikee Agustin, Mica Javier, Sammie Rimando, Krishha Viaje, Jessica Marasigan, and Joana Hipolito.