Filipinos are known to be some of the most passionate WWE fans not just in Asia, but worldwide. And Stephen Farrelly, also known as WWE Superstar Sheamus, knows exactly that.
While it seems to be enough to love our country back, Sheamus has got tons of other reasons why he loves the Philippines. And yes, that includes a Pinay girl who captured his heart.
Meet Isabella Revilla.
Unknown to many, the Irish professional wrestler has been in a relationship with the US-based Pinay for some time now.
During an appearance at Bonifacio Global City, Sheamus openly talked about his girlfriend, his love for Pinoy food, and of course, the Filipino brand of hospitality.
"Well, my girlfriend's from the Philippines. So I got her, alright? The food's amazing, the people here are amazing. Obviously what makes this country great is the people in it - especially being here in the last 24 hours. Has it been 24 hours? How's it 24 hours? It's the fact that everybody here is proud to be from the Philippines. Everyone's super proud of their country. Everyone's super nice. Everyone's so respectful. And most important of all, everybody here loves the WWE," he said.
Unfortunately, Isabella couldn't come with him to the Philippines. But of course, that didn't stop her from sending her love all the way from the US.
Isabella, proud of her boyfriend Sheamus after sharing snaps on Instagram calling himself "The Fella in Manila," reposted the said photos via Instagram stories.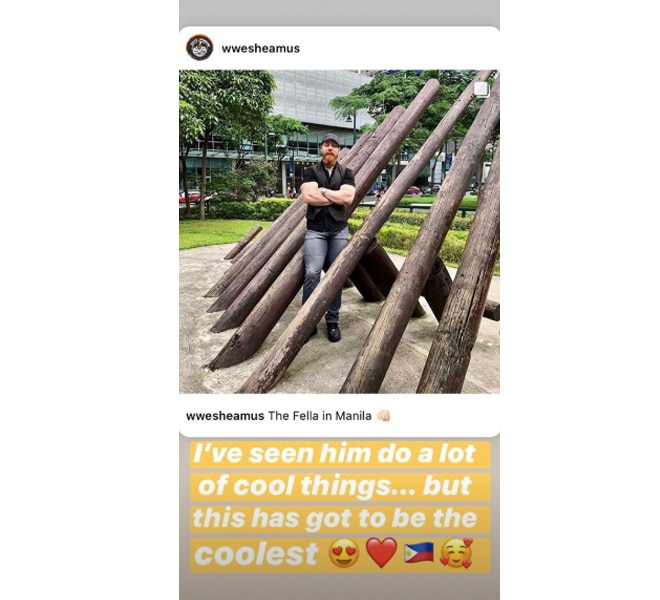 "I've seen him do a lot of cool things … but this has got to be the coolest," she wrote in her stories, adding heart and Philippine flag emojis.
Meanwhile, Sheamus, a staunch believer of Pinoy talent, has no doubts that a homegrown Pinoy Superstar can one day make it to the international scene.
"Of course they can, absolutely. They absolutely can," he stated. "You know, it doesn't matter where you're from. It's all about the individual and how much passion they have to want to do this."
WWE Manila 2019 is happening on September 20 at the Araneta Coliseum.
Other notable WWE Superstars who will be at the highly-anticipated sports event are Roman Reigns, Kofi Kingston, Charlotte Flair, Finn Bálor, Asuka, Elias, Xavier Woods, Big E, Shinsuke Nakamura, Rusev, Kevin Owens, Bayley, Carmella, and The IIconics.