Iya Villania recently took to social media to ask for prayers for her firstborn son who was diagnosed with a hand, foot, and mouth disease.
The 33-year-old TV host broke the news by sharing an update on Primo's current condition through a series of Instagram Stories on Saturday.
"Prayers please for Team A as kuya Primo has HFMD," she said.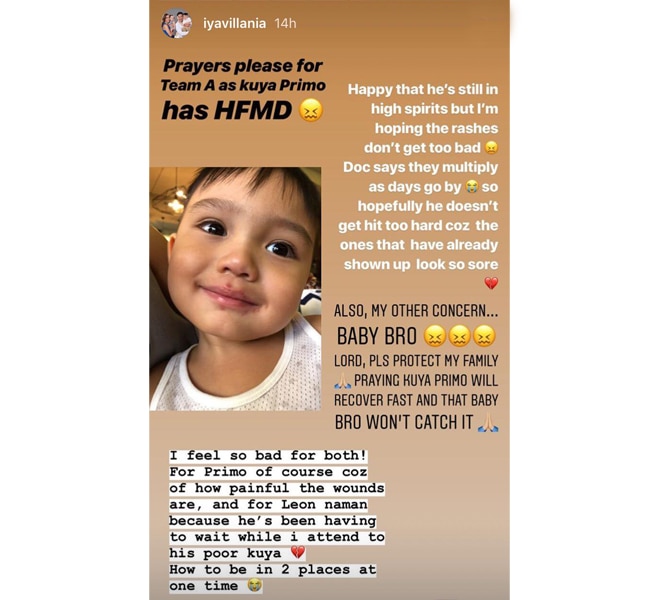 "Happy that he's still in high spirits but I'm hoping the rashes don't get too bad. Doc says they multiply as days go by. So, hopefully he doesn't get hit too hard 'coz the ones that have already shown up look so sore," she added.
Iya said that her other concern is her youngest child with husband Drew Arellano, 10-month-old Leon, who is at risk of catching the infectious disease from her sibling.
"Lord, please protect my family. Praying kuya Primo will recover fast and that baby bro won't catch it," she continued.
"I feel so bad for both! For Primo, of course, 'coz of how painful the wounds are, and for Leon naman because he's been having to wait while I attend to his poor kuya. How to be in two places at one time?," she added.
In a separate update this Sunday, a happy Iya said that Primo remains lively and energetic despite having to deal with even bigger and more painful blisters than yesterday.
"Thanks for all the prayers, guys. Check his sores today - I was expecting the worst - so [I] was happy to come home from work and see him still happy even with bigger blisters since yesterday," she shared.
According to health site Mayo Clinic, HFM disease is "a mild, contagious viral infection common in young children and is characterized by sores in the mouth and a rash on the hands and feet".
There's no specific treatment for HFM disease, but frequent hand-washing and avoiding close contact with people who are infected with such can help reduce the risk of infection.