"Akala mo uurungan ko 'yung tanong 'no?"
This was how Kris Aquino concluded her statement as she gamely answered a fan's naughty question about her former partners Phillip Salvador and James Yap.
It started on Thursday when the Queen of All Media cited the genes of her exes as a factor in the height growth of her kids on Instagram. According to Kris, Josh, her 24-year-old son with Phillip, now stands 6-foot-2, while Bimby, her child with James, is already 5-foot-10 at the mere age of 12.
"Yes, genetics matter... But sleeping early and drinking milk are also vital to help achieve maximum growth," she said.
"[Phillip] is 5'11 to the best of my memory. [Bimb's] dad, I believe, is about 6'3"," she added.
Unsurprisingly, this enumeration of numbers from the actress elicited several comments from her followers, one of which bluntly asked who is "bigger" between the actor and the basketball star.
Never one to back down from a challenge, Kris replied, "Since wala na 'kong balak na masilayan pa hanggang kamatayan — care bears na 'diba?"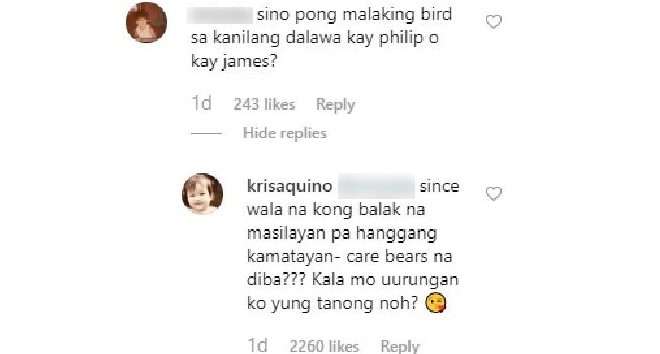 It's no secret that Kris hasn't had a friendly relationship towards either Phillip or James for a long while now.
In February, she blasted Phillip for taking part in a banter with Senator Christopher "Bong" Go about their past relationship during a campaign sortie in Davao City.
READ: Philip Salvador says he would 'always respect' Kris Aquino
Meanwhile, Kris has been similarly estranged from her former husband James following a series of legal feuds involving their son. The two have been separated since 2012.