The Philippine Medical Association has released its official statement in light of singer Yeng Constantino's controversial rant against a doctor in Siargao this past week.
READ: Yeng Constantino, ikinwento ang traumatic experience kasama ang asawa sa Siargao
In a message dated Tuesday, the Association said it stands in full support of its member, Dr. Esterlina Luzares Tan, against Yeng's statement in the recent incident involving her husband, fellow musician Yan Asuncion, in Dapa Siargao Hospital. It also lauded her for keeping a "calm and composed attitude" despite the urgency of the situation, adding:
"Her extra effort to study how to operate an Infra Scanner, a new modality in her area, to ensure that Ms. Yeng Costantino's husband does not suffer from any intra-cerebral hemorrhage which may be obtained from cliff diving, is also admirable.
"The Philippine Medical Association will not allow its members to be subjected to unnecessary shaming while doing their duties, which is to save lives."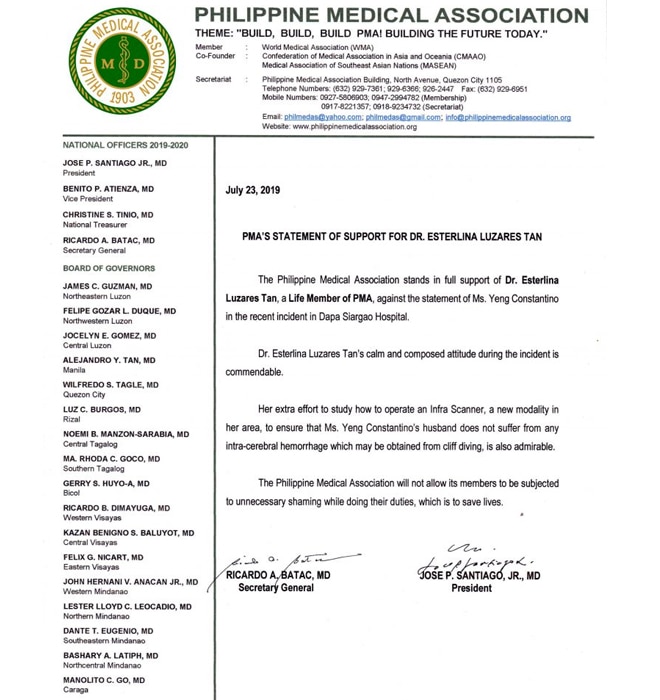 Photo credit: www.philippinemedicalassociation.org
Following her tirade in a now-deleted vlog narrating her "traumatic experience" in a Siargao hospital, Yeng faced online backlash for "humiliating" a medical practitioner, whom she accused of lacking urgency during her husband's hospitalization following a cliff jumping accident.
She has since apologized by taking down the video and releasing a statement regarding the incident.
"'Yung mga recent posts ko was brought about by my high emotions dahil sa nangyari sa aking asawa whose life at that time I thought was in grave danger. Pagkatapos kong kausapin ang mga taong malapit sa akin I realized I should have been more responsible in my posts," she wrote.
"I would like to apologize to Dr. Esterlina Tan and the other medical staff for the hurt that my post and vlog has caused them. Whatever concerns I had should have been coursed through the proper forum. It was unfair to call her out on social media and I'm taking down the posts and the vlog immediately.
"I'm deeply sorry for the hurt I caused her at sa lahat ng mga medical professionals who were affected by my posts. There is no excuse. I will do my best to be more responsible next time," she added.