A filmmaker from the Philippines surprised Filipino viewers of the hit Korean series Arthdal Chronicles when he appeared on its ninth episode on Saturday, speaking in regional languages Tausug and Yakan, no less.
"Kaunahan tara isa kuma-on. Iban binug-tubig," said Nash Ang in a scene where his nameless character, a member of the Wabi tribe, was asking for food and water to drink after being captured and forced into slavery along with other tribes, including Soong Joong-Ki's character Euseom of the Wahan Tribe.
A former dancer and theater actor in the Philippines, Nash left for SoKor after getting accepted in the Korea National University of the Arts as a scholar in 2012.
"Prior to my acting career here, I was active in the dance community and theater in the Philippines. I was able to utilize those skills whenever there are opportunities to showcase it here in front of the camera," he shared in a recent interview with Lifestyle Inquirer.
In Arthdal Chronicles, Nash was responsible for the dialogue written in Tausug, a regional language spoken in Sulu, and Yakan, the language in Basilan.
"Native languages from Southeast Asia fit the narrative of Arthdal Chronicles. They even filmed some parts of the series in Brunei. Luckily, my family came from Mindanao and speaks Tausug and Yakan," he said.
"The production team asked me to translate some dialogues to indigenous languages from the southern part of the Philippines. Some conversations featured Yakan. I had my mother and relatives translate the lines because the conversations are deep. They were memorized by the Korean actors," he added.
Nash said that the ninth episode was just as difficult to shoot as it is to watch.
"We were filming in winter during the coldest time of the year. We were shooting on the top of the mountain. Temperatures were around -10 Celsius. I'm only wearing slippers. Water was splashed on my face. We did it several times in different angles. I just had to endure and do my best on this week-long torture," he said.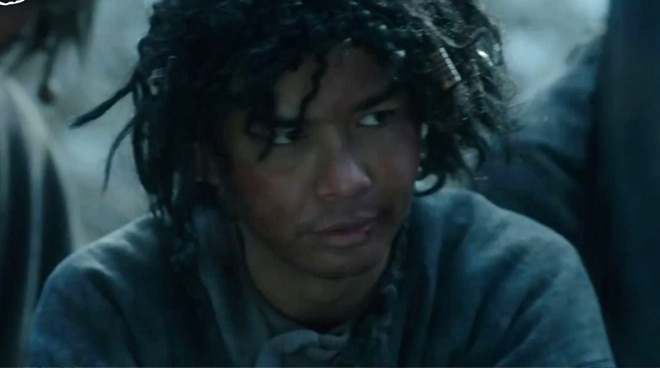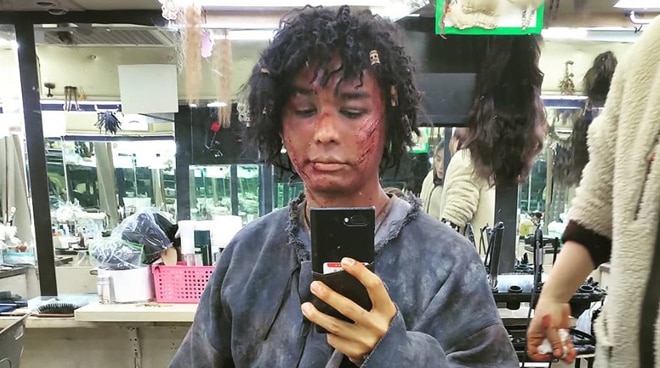 Photos credit: Nash Ang's Facebook page
One of the highlights of this project was meeting Joong-Ki, who is huge not just in Korea but in the Philippines as a fan favorite in another popular K-drama series Descendants of the Sun. After successfully filming his scene, Nash said that the superstar gave him a pat on the back, both figuratively and literally.
"You did a great job," Joong-ki said to Nash as he handed him a heat pack after the cut.
Only later was Nash able to thank him for the praise, when Joong-Ki himself approached him during a group dinner among actors and production staff while on the set.
"I no longer felt shy talking to him. He always says hi and bows first when we meet. He is a very popular Hallyu star. I am just an extra. (But I found him) approachable and humble," he said.
Said to be Korea's answer to the American blockbuster series Game of Thrones, Arthdal Chronicles is set in the mythical land of Arth, where the inhabitants of the ancient city of Arthdal and its surrounding regions vie for power as they build a new society.
Helmed by Misaeng and Signal director Kim Won-seok, together with the writing team behind Six Flying Dragons, the series premiered on tvN last June 1 and stars Joong-Ki, Jang Dong-gun, Kim Ji-won and Kim Ok-vin.