Kris Aquino has recently been inactive on social media after flying to Singapore for more medical tests and she surprised her online followers after writing a note saying she would prefer to stay out of the limelight in order for her to stay healthy and be with her sons Joshua and Bimby.
Read: Kris Aquino ayaw na sa limelight, gustong maging 'private citizen'
In her post, she shared her ups and downs in the entertainment world and even revealed supposed projects that did not push through.
"P.S. This didn't happen because we didn't impress management; ABS-CBN had tried in the early months of 2016 to tape a pilot for Anthony Taberna and myself," she revealed.
"There's no non-disclosure agreement so I'm posting this for the 1st time because I had seen it while organizing my iCloud pictures and videos," she added, saying the show did not pass for airing.
"Our pilot wasn't approved (I am owning not having asked for more off camera readings, bonding sessions, freewheeling discussions followed by camera rehearsals before the actual taping of the pilot which management viewed)," she shared.
Kris also recalled the time when she turned down offers from Korean production companies and admitted that she hesitant for a change back then.
"Nay Lolit Solis had reminded me of recently, when I asked for K-Drama recommendations, she said, 'Tetay di mo ba naiisip yung mga Korean na produ na inisnab mo lang?' (Slap me now because I finished Sky Castle in 3 nights and I'm enjoying Man to Man) she vividly recalled the 4 meetings Korean producers had with us between late 1993 to early 1994," she said.
"I wasn't forward thinking enough to have trusted their vision and signed up for a long term contract with their company because I was 'comfortable' doing my massacre movies and I couldn't see me entrusting the next 5 years of my life to them because they were offering a long term deal that would have brought me to Seoul which didn't look that attractive monetarily but would have given me incentives," she added.
Kris then told veteran columnist Lolit, "Nay, huwag na natin ikwento kasi ngayon ang dating parang ang tanga ko?"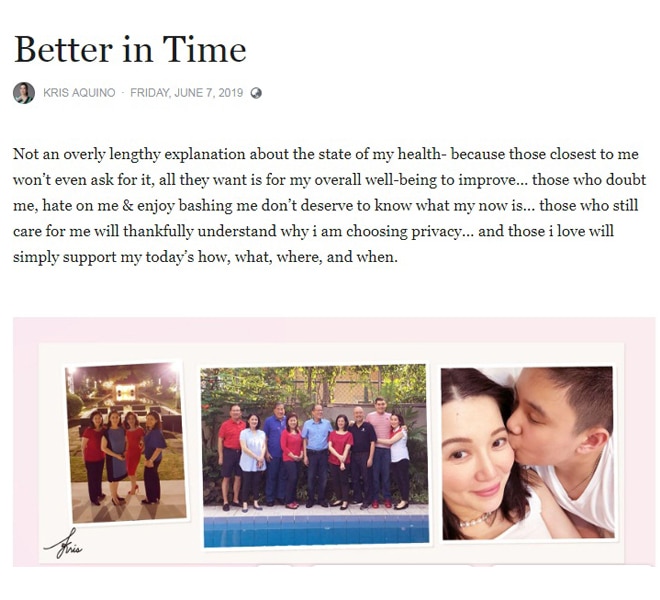 Dubbed as the Queen of All Media, Kris entered the showbiz industry during her teenage years and made a name for herself. When she left ABS-CBN, her mother network for two decades because of her health issues, she found a way to bounce back and became the first local celebrity to enter and dominate the digital world.
Aware of the risks of being inactive in the eyes of the masses, she realized she needed to make a sacrifice for her sons and to completely heal.
Read: Kris Aquino, may malaking hamon sa pagbabalik bilang isang private citizen