Kris Aquino fired back to a basher who accused her of overstating the implication of her health issues.
Through Instagram this week, the netizen in question contested the Queen of All Media's earlier claims regarding her autoimmune disease, alleging that she was merely "feigning illness" to gain attention.
The comment read, "I am wondering why you are describing your health issues. Allergies are not debilitating. It is common in the United States during pollen season. You are making it as though you are incapacitated to live your normal life. All it seems is 'MALINGERING.
"Do you know that some people who are suffering from 'autoimmune disease' do not 'OVERACT' like her? Her acting is worthy of an Oscar. It's just too much. She's the ONLY ONE on Instagram that posts a novel describing her illness. It's intoxicating. Please make it short and simple," she added.
In a lengthy response, Kris retaliated by disproving the accusations, stating, "You are SO WRONG, severe allergies can KILL, maybe before you judge, google ANAPHYLACTIC SHOCK. I am 99% sure this is a fake account. Whoever/whatever you are, so creator of said account, you haven't earned the privilege of being cruel to me or ANYONE else battling an autoimmune issue, any form of allergy, or any type of illness.
"You made mention 'sa US' – measles vaccination is such a hot button topic, 'di ka nagbabasa, kahit FB? the price of the EpiPen and maintenance medicine, etc. is part of the healthcare platforms of even 'presidential' candidates and no biggie ang allergy, really? I'm making a STAND against whoever MADE this or is PAYING for this post bullying about my 'malingering' illness because warning, DO NOT JUDGE. Baka iparamdam sa inyo o sa mahal n'yo lahat ng nilalabanan ko sa loob ng halos isang taon to teach you compassion."
"Common sense ha, the longer I stay unhealthy, the less likely ang 2022. Pero kung papasukin, handang handa, may five platforms personally experienced & survived: healthcare as a patient, taxation from 32 years of honest payments, education from a mother's perspective, the justice system & the family code (gets niyo na), and smaller scale entrepreneurship. So LET [me] stay PEACEFUL in [my] desire to HEAL," she added.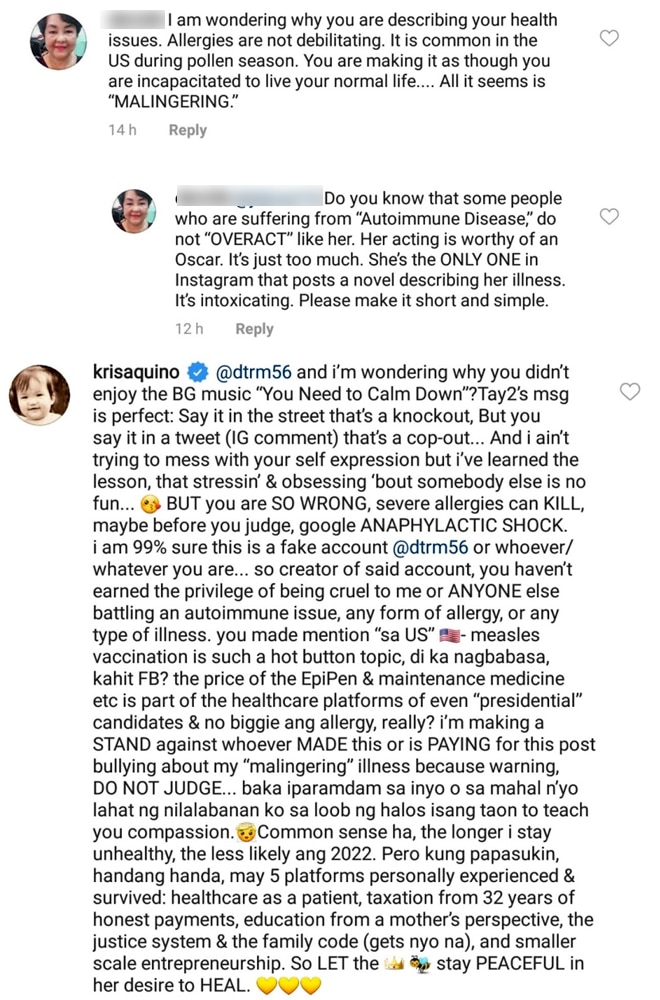 Screenshot by Fashion Pulis
In the recent years, Kris has made zero attempt at hiding her health ailments, including a "form of lupus," for which she regularly seeks medical treatment in Singapore.
READ: Kris Aquino explains body change: 'In real life I don't look that great'
In a note she shared on Facebook last June 7, in which she shared updates regarding her physical condition, Kris stated that her focus for the next few months is to "get my immunity stronger, concentrate on the parts of me where I have a chance to be better, and strive for HARMONY where it's possible," adding that she prefers to recover away from the limelight for the sake of her own and her children.