Heart Evangelista is arguably one of the sexiest celebrities in the country. But did you know that she is now on a weight loss program?
In spite of seemingly having a perfect figure, she revealed in an Instagram post still that she is currently undergoing a weight loss management program called HCG or Human Chorionic Gonadotropin.
The 34-year-old A-lister shared a photo of herself on Instagram getting injected with what she referred to as #H2DietShots.
Beauty queen Maria Isabela Galeria, who represented the Province of Sorsogon at the Bb. Pilipinas 2019, facilitated Evangelista's weight loss treatment procedure since she happens to be a registered nurse.
"Look who dropped by! Bb. Sorsogon, @mariaisabelagaleria, joined me for coffee and was kind enough to be my nurse for the day! Thank you @draivee for the HCG diet shots."
The said post left her fans wondering why she would still have #H2DietShots considering she already has a slim figure.
One fan wrote: "Weight loss? You are skinny already darling."
Explaining her decision to undergo the said diet, she replied: "I gained 20 pounds since my wedding. Need to bring back my old body for my movie."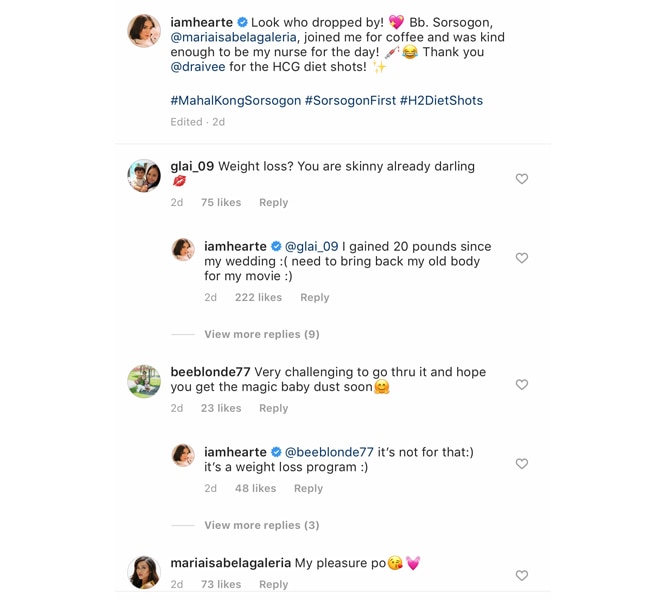 Read: Heart Evangelista, napasabak sa action sa international movie
Meanwhile, one fan thought that the actress—who suffered a miscarriage last year—was getting the shots to help her conceive a baby.
"Very challenging to go thru it. Hope you get the magic baby dust soon," the netizen wrote.
To which she replied: "It's not for that. It's a weight loss program."
Heart Evangelista has been flying to and from China for months now to shoot an undisclosed international action film.