After drawing the ire of many fans, former beauty queen Patty Betita reportedly took to Twitter on Monday to apologize for her statement regarding actors Daniel Padilla and James Reid during the recently concluded Binibining Pilipinas pageant.
As seen in screenshots currently circulating online, the Filipina model, who was the talk of the town after bluntly stating that Daniel "is much nicer and more accommodating than James", said that she didn't realize the impact her opinion would have on fans when she made
the statement.
Sorry but 🙃#fortherecord pic.twitter.com/rChNML8dvO

— KDBF 👑👑 (@rachelgreen025) June 10, 2019
"I didn't realize the gravity of what I thought was just my opinion.Obviously made so many JaDine fans seething with anger attacking me," she said.
"Ok, I sincerely apologize if I hurt your feelings. I judged an innocent guy and made a careless comment.
"Respect begets respect. Thank you to the others who personally messasged me and encouraged me to just come out on Twitter where I guess #fortherecord was created alluding to me and humbly apologize. So there. [Peace out] everyone and God bless us all," she added.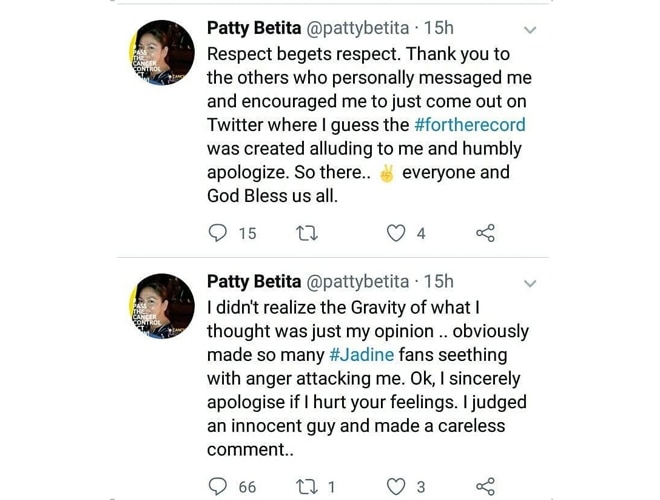 However, it appears that Patty has gone private on Twitter since releasing her apology this week. Although this didn't stop those who had something to say about the issue from creating yet another online fuzz concerning the beauty queen.
"Having the word sincere does not make it sincere when you still believe that your opinion is right. It looks like you just apologized bec of the heat you are getting," wrote one netizen.
"Don't take these bashers too seriously. The loveteam culture in the Philippines is so toxic. They treat their idols like gods and attack those who say the slightest negative thing about them. You spoke the truth based on your own personal experience and it is your right to do so," said another.
Both Daniel and James graced this year's Binibining Pilipinas as part of the celebrity judges.