Over a month after capping off the hit primetime series Halik, Jericho Rosales announced that he's working on a new project with award-winning director Paul Soriano.
Through his Instagram Stories on Monday, the seasoned actor shared videos from his dinner meeting with Paul and other colleagues from his production company, TEN17P Films, the same producer behind Jericho's 2017 highly-acclaimed film, Siargao.
The 39-year-old star's supportive wife, model and digital creator Kim Cam Jones also graced the meeting.
"Guess who I'll be working with on my next film," said Jericho.
"I don't know what happened here, but great things are brewing," he added.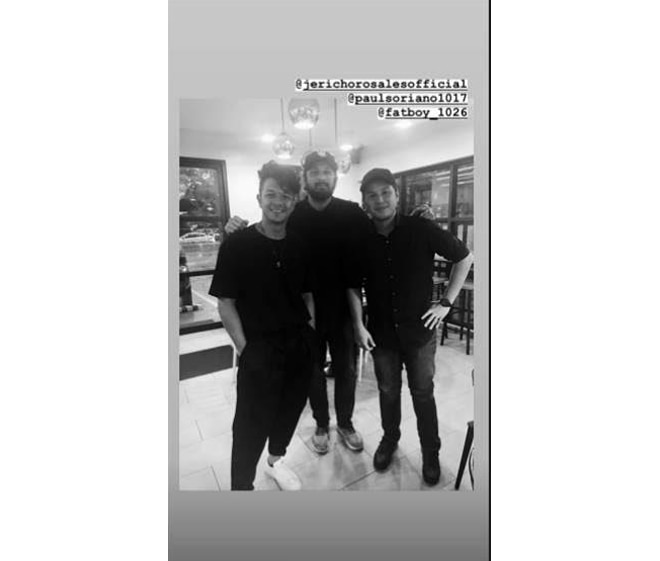 Photo credit: @ten17p on Instagram
Prior to ending 'Halik', Jericho shocked many fans after disclosing that he no longer intends to do soap operas from that point onward. The plan, he said, is not to quit acting – he isn't expected disappear from showbiz anytime soon – but to take on new, unexplored roles in addition to being an actor.
READ: Jericho Rosales: "I don't want to do soap [operas] anymore"
"I will graduate already from soap operas. But a different kind of TV show? Why not. There's digital. We don't know where things are going. It's a season of each and every actor can create, can direct, can produce, can write. One of the very few that actually offered me that was Direk Ruel Bayani [RSB Drama head and Halik director]," he said.
"Will I say goodbye to the fans? No. Will I say goodbye to the one I love most, acting? No. I just want to create something new. I want to challenge myself. If it doesn't work, it's my fault. I'm backed up by my endorsements and they're all saying na, 'Jericho, we do not mind if you want to do your own thing.'
"Now it's out there, nalabas ko na. Something in me is dying already so I have to breathe new life into this career. So the next ten years, I don't know. We'll see," he added.
Aside from Halik, Jericho last appeared on the 2018 Metro Manila Film Festival (MMFF) entry, The Girl in the Orange Dress, opposite actress Jessy Mendiola.