Film critics and netizens have expressed their utmost admiration and esteem for the historical drama Quezon's Game, which delved on a hidden chapter of our history on the Commonwealth president's humanitarian act towards Jewish refugees fleeing the Holocaust.
The movie was hailed for uncovering a "story that our history books may have missed to tell us. But one that must be told, seen, and heard," said actor-director Icko Gonzalez on his Facebook page.
"As a Filipino, Quezon's Game brought me back to a time in our history when our President admirably displayed unwavering resolve to help the helpless despite the odds," Gonzalez further posted. "As a human being, the film brought me to a place of compassion."
But what really impressed them was the "calculated, restrained and exact" performance of Raymond Bagatsing as he depicted President Manuel L. Quezon's emotional journey," Gonzalez added.
He also lauded Rachel Alejandro, who plays Quezon's wife Aurora, has having her "shining moments. A few times I wanted to comfort her Aurora."
'Highly intuitive and remarkable'
In a separate Facebook post, culture journalist and film critic Pablo Tariman stressed that while Bagatsing shone as Quezon, "the portrayal of Audie L. Gemora as Sergio Osmena, Billy Ray Gallon as Alex Frieder, and Tony Ahn as Herbert Frieder...was highly intuitive and remarkable."
Tariman added that the "riveting screenplay by Janice Perez and Dean Rosen, and an inspired direction by Matthew Rosen" led to a "first-rate drama inspired by history."
Inquirer.net praised it as being "smart enough not to bite off more than it could thematically chew." It added, "Quezon Game doesn't just commemorate the former president's act of defiance and legacy of kindness, it will also make you mighty proud to be Filipino…This film will remind you why the country and its people are still worth saving and celebrating."
It further said that film "underscores the encompassing reach of generosity and kindness in the age of social media…it will sweep viewers off their feet and (them with) the most indelible and touching finales ever staged this film season."
'Historical, informative, enjoyable masterpiece'
Education Secretary Leonor Briones also hailed the film in her personal Facebook account as "a very historical, informative and enjoyable masterpiece that will help us learn more about our Philippine history and the role of the Philippines during the rise of Hitler and World War II."
Netizens were even moved to tears after watching the film, and felt a strong sense of nationalism learning the precious, unearthed historical revelations.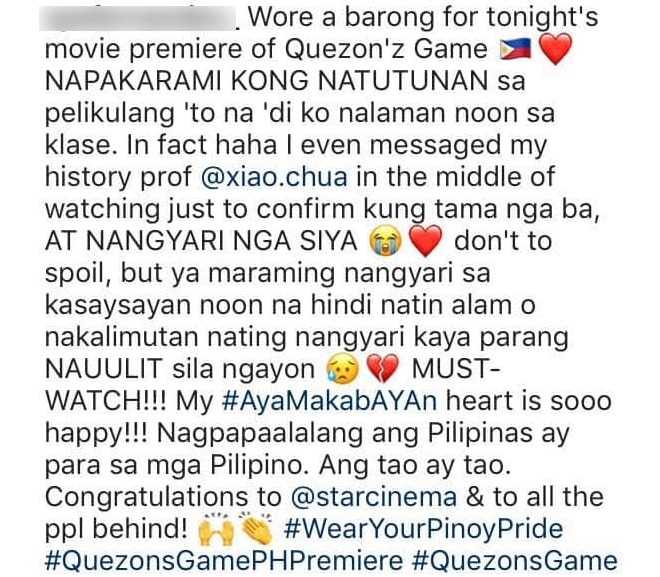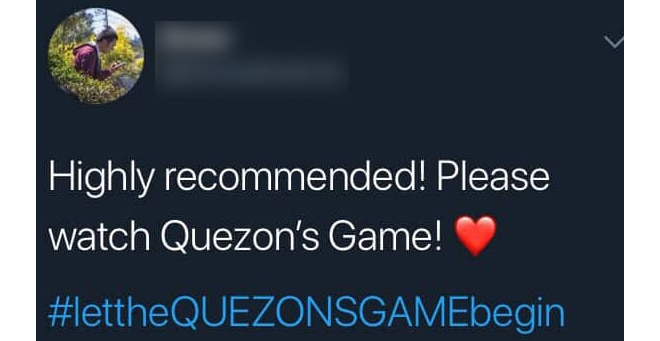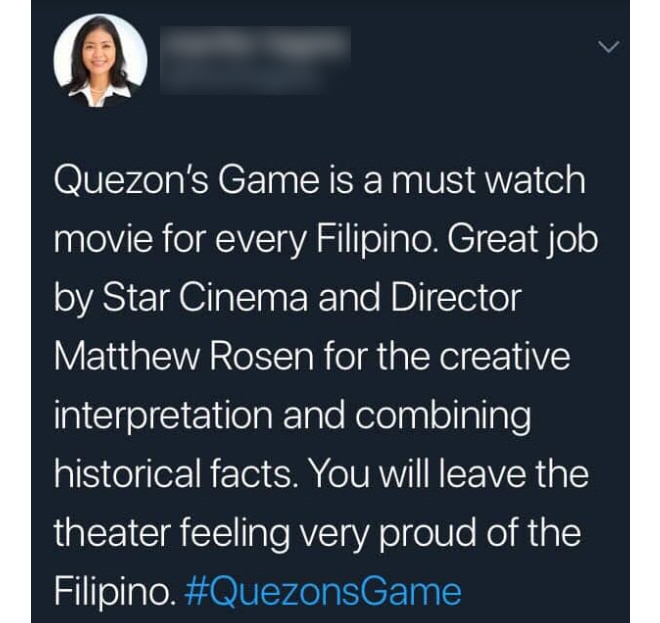 Quezon's Game, directed by Matthew Rosen and stars Raymond Bagatsing as Quezon and Rachel Alejandro as his wife, Aurora, is unanimously graded A by the Cinema Evaluation Board.
It has won a total of 23 awards internationally since December 2018. This includes Best Director, Best Actor, Best Producer, Best Foreign Film and Best Cinematography from various film festivals, such as World-Fest Houston International Film Festival, IndieFest Film Awards, Accolade International Film and TV Festival, and the Cinema World Fest.
In Cinema World Fest, held in Ottawa, Canada, Quezon's Game won 12 awards—Excellence in Acting for Raymond Bagatsing and Rachel Alejandro, Excellence in Acting in a Supporting Role for Billy Ray Galloon, Excellence in Directing for Matthew Rosen, Excellence in Produced Screenplay for Janice Perez and Dean Rosen, Excellence in Lighting, Excellence in Costume Design, Merit Drama Feature, Merit Color Treatment, Excellence in Original Score, Excellence in Sound Design, and Excellence in Production Design.
Produced by Star Cinema and Kinetek, Quezon's Game is currently showing in theaters nationwide.