Claudine Barretto didn't hold back from calling on one of her followers to respect her privacy following an alleged incident of gatecrashing at her family residence recently.
This after the hardcore fan introduced herself to the seasoned actress by leaving a series of comments on her Instagram page on Tuesday, May 28.
"Clau, ako 'yung kinasuhan ng PA mo na gatecrasher sa Marikina. Fan mo ako pero na-upset nang instead na kitain mo ganun nangyari," the netizen in question wrote, clarifying that the reason why she went to Claudine's house was to offer her a slimming product.
"Ang naisip ko depressed ka lang kaya tumaba at I witnessed na iyak ka nang iyak sa radio nung muntik ng mamatay asawa mo. Kaya 'di dapat kayong maghiwalay. You look as if you are just 18 years of age. … Christian na kayo ni Raymart, 'di dapat kayong magkahiwalay," she added, referring to Claudine's estranged husband, actor Raymart Santiago.
Claudine responded by stressing that it's not proper to show up to her door uninvited and explained that her staff were only doing their jobs as they should.
"I'm sorry but we cannot and don't entertain people we hardly know, let alone allow strangers to come to our home uninvited. I'm sorry to disappoint you but it's not proper and right to just go to anyone's house when they don't even know you. My staff we're just doing their job and that is to protect me especially my CHILDREN," she said.
"God bless. Hope this stops here with me and doesn't happen to anyone in the future. Please respect our PRIVACY," she added.
Meanwhile, fans rallied behind Claudine, with a number commending her for having handled the matter gracefully.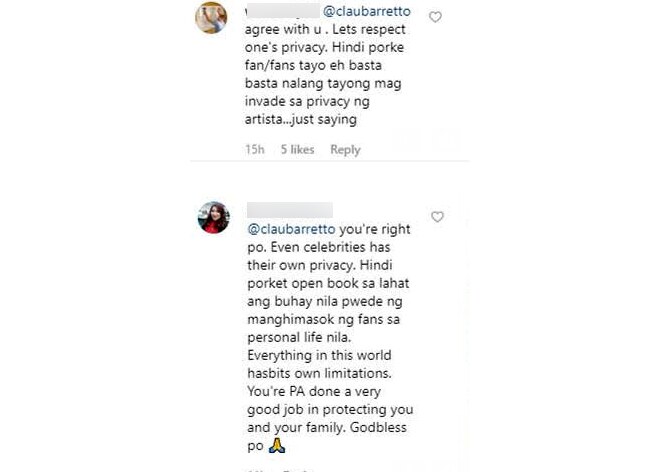 Meanwhile, Claudine is going to have her comeback on the big screen this year, having announced in her recent guesting on Tonight With Boy Abunda that she is slated to shoot a new film with former leading man Piolo Pascual.