Social media influencer Dani Barretto thanked her family from the Legaspi side for being present at her wedding to DJ Xavi Panlilio last April 23.
The eldest daughter of former actress Marjorie Barretto took to her Instagram Stories recently to express her gratitude towards her grandmother Hershey Legaspi and cousins Mavy and Cassy Legaspi (children of actors Zoren Legaspi and Carmina Villaroel) for having taken part in one of the biggest days of her life.
"It means the world to me to have my Lola, my Momsy, attend my wedding. I love you, Mama! You know I'll do anything for you," she wrote.
"To Mavy and Cassy, I am so grateful for you two. I love you both so much," she added.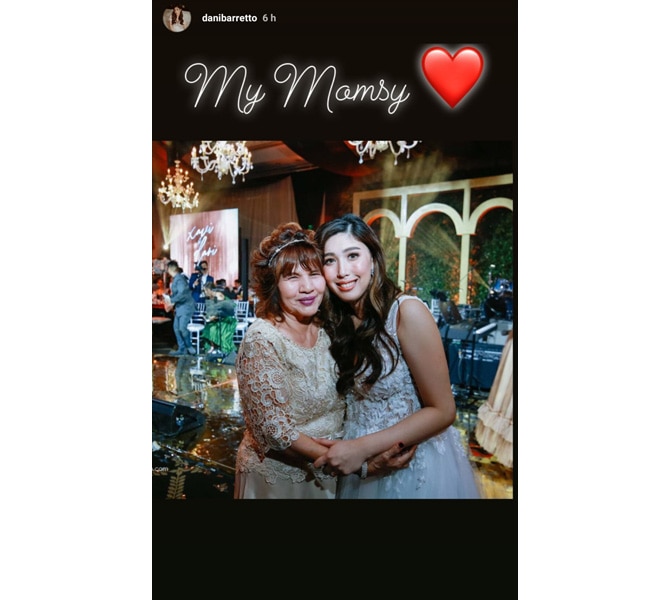 Noticeably, Dani's father, actor Kier Legaspi, was absent from the ceremony.
In March, a month before her wedding, Dani had reiterated her decision to have only Marjorie walk her down the aisle as she admitted to not being on speaking terms with Kier for almost six years now.
"It's only right that she [Marjorie] walks me down the aisle because she raised me on her own. Everything that I am, it's all because of her. She is the most deserving to walk me down the aisle," she told in a vlog entry.
"To be honest, my dad and I never really had a solid relationship. All I know is he's my dad and that's it. We had a brief relationship which was like two months. It was nice. I'm not going to say I don't love him. It's just that, I guess na when you're apart for so long and you already grew up and nasanay ka nang wala 'yung tao sa life mo, you just feel like... not naman you don't need the person, but you feel like you're okay without them," she added.
Meanwhile, Kier had given Dani his best wishes on her wedding through an Instagram post, where he, too, expressed his love and longing for his firstborn daughter.
"I want you to know that I was the first man who ever loved you and that no matter what, you will always be my daughter. I will continue to pray for you and your family. Hindi importante ang opinyon ng iba. Para sa akin, kasama ang Legaspi family you will have a special place in our hearts," he wrote,
"I wish nothing but the best for you. May God bless you and everyone you love," he added.