Actress Alice Dixon sparked an online debate after recently taking a stand on the domestication of wild animals.
Having introduced a black spotted leopard to her Instagram followers on Saturday, the 'Ngayon At Kailanman' star drew mixed reactions after insinuating in her caption that exotic animals can be tamed and taken in as pets, much like dogs and horses which species were once considered as wild.
"I already know what many of you are gonna say 'These beautiful creatures should be out in the wild' etc etc. Even if I agree - it will not stop some to still purchase, domesticate or keep as pets," she said.
"If you think about it... dogs, horses and other animals were all once wild before they were tamed ... so let's agree to disagree and let people be - so long as they are not hurting anyone ya? Walang basagan ng trip yo!," she added.
It remains unclear whether or not Alice has adopted the panther as a household pet. However, her caption appears to have ruffled a few feathers, including this one particular comment from a fan: "This is the height of irresponsibility, when a celebrity not only condones, but also justifies, such a wrongful act. When this wild animal decides to reveal its primal instinct, who do you think stands facing the barrel of a gun? Who do you think suffers and dies just because a celebrity decided to disregard all reason and say, 'Walang basagan ng trip'? This is absolutely disappointing, frustrating, and inexcusable."
Another follower pointed out that the animal was likely to have been sedated so he could be friendly around humans, to which Alice has made it clear that the leopard was't drugged, but rather was trained to be as such. "Blackjack is used to being around people so he can be very calm," she wrote in a short reply.
Nevertheless, in the midst of the apparent backlash, there were a couple who sent in relatively positive comments.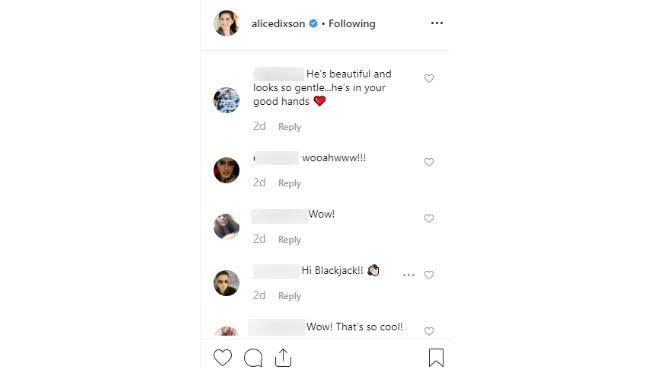 As of this writing, Alice has yet to give her final thought regarding the controversy.