Beauty queen Katarina Rodriguez on Tuesday hit back at a critic who called her out on social media for being silent about the recent bombings in Mindanao.
During her stint as the Miss World Philippines 2018, the 26-year-old championed peace education as her main advocacy, citing that the best way to achieve world peace is by starting with young children through providing proper education on nonviolence and proper communication.
"'Di ba, advocacy mo sa Miss World is peace education? Anong masasabi mo sa recent bombings in Mindanao?," the netizen wrote. "Bakit tahimik ka na ngayon? Dahil ba tapos na Miss World at clapper ka? Kalowka."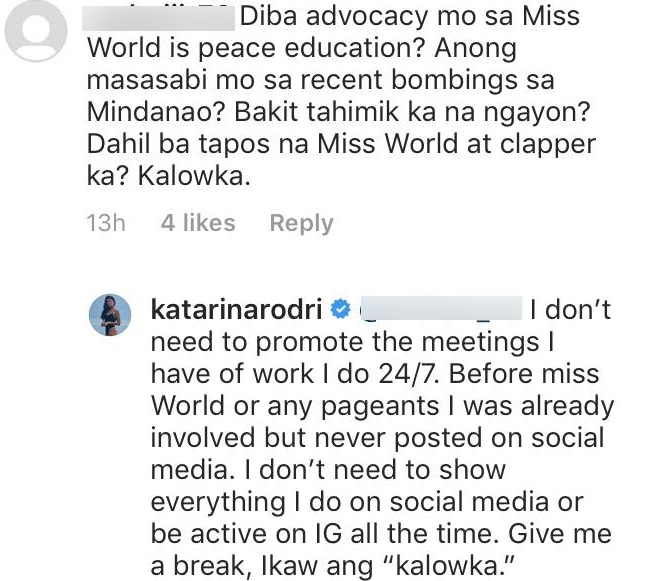 In her defense, Katarina — who also represented the Philippines in the 2017 Miss Intercontinental — said that she doesn't always have to share her work on social media.
"I don't need to promote the meetings I have, of [the] work I do 24/7," she said. "Before Miss World or any pageants, I was already involved but never posted on social media. I don't need to show everything I do on social media or be active on IG all the time."
Among those works was her visit to ground zero of Marawi to talk and engage with its surviving people, all shared in her 'Beauty in a Purpose' video as part of her Project Become that went viral online in November last year.
But the critic wasn't done, having said that the lack of response from Katarina on the war currently happening in the South is disappointing.
"The irony. So, you don't post or IG story your so-called charity works, but mga kabebehan mo pinopost mo," he said. "Now is the right time to use your voice, Queen. Don't get me wrong. I'm one of your fans pero nakaka-disappoint lang."
The Filipino-American stunner, however, has yet to respond anew as of writing.