Andi Eigenmann recently announced that she's pregnant with her second child and she's happy about it.
Read: Andi Eigenmann is pregnant with second child
The 28-year-old actress happily shared a photo of her baby bump while in Bali, Indonesia and one netizen commented and said, "Sana Ands (Andi) pakasal ka muna sayang."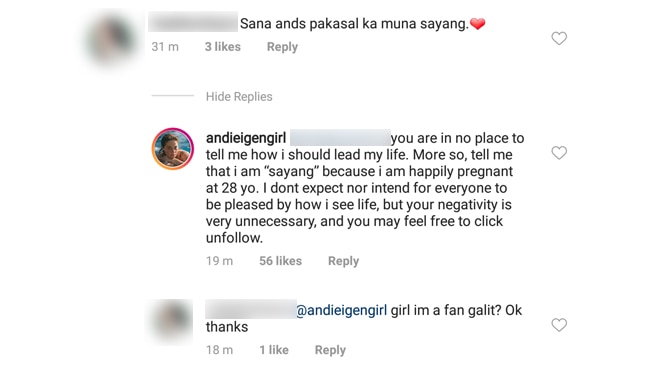 This caught Andi's attention so she replied, "You are in no place to tell me how I should lead my life. More so, tell me that I am 'sayang' because I am happily pregnant at 28 yo. I don't expect nor intend for everyone to be pleased by how I see life, but your negativity is very unnecessary, and you may feel free to click unfollow."
The netizen stressed that she was a fan and thought Andi got mad by her comment. She then added, "Sana hindi na maghiwalay di ba?"
"People having different beliefs as I do, does not anger me. Otherwise, I wouldn't have taken the time to let you know how your message made me feel. But we should learn to accept that every person is different and we have no right to shove our beliefs on others. I called you out because it's such a shame when women bring other women down. Not because I am angry," Andi clarified.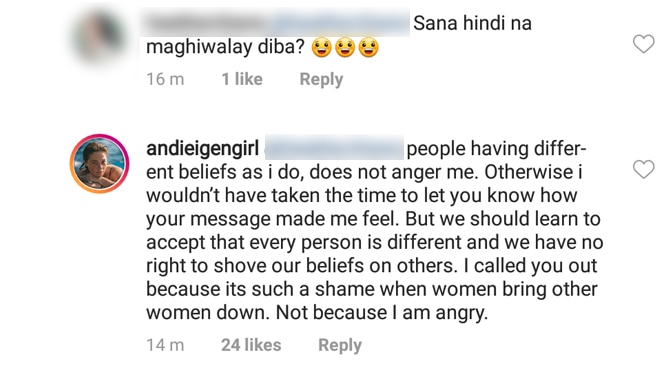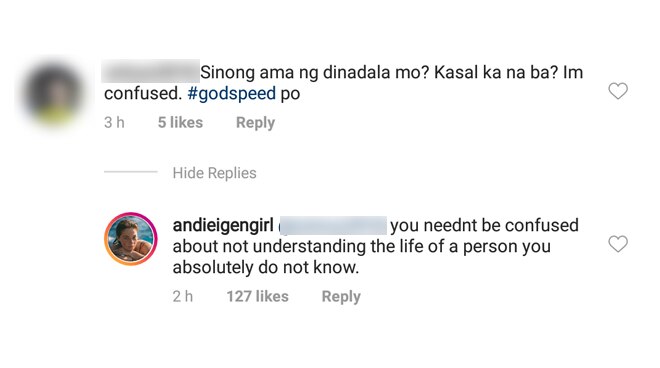 Another netizen then congratulated her and asked what was her mother Jaclyn Jose's reaction to her being pregnant because he/she recalled Jaclyn had cried in an interview about her first pregnancy.
"Of course. I'm already 28 she's very excited!" Andi said.