Model Clint Bondad took to social media Saturday evening to clarify that there was no drama between him and Miss Universe 2018 Catriona Gray when they decided to part ways after six years of being together.
During her interview for her ABS-CBN grand homecoming last Friday, the Filipino-Australian beauty queen stirred quite the controversy after having confirmed that she and her beau have already called it quits.
"Well it's all about balance, whatever works for your personal life. But for me, wala akong love life ngayon," said Catriona when asked how does she manage her love life now that she has taken the title of Miss Universe. "So, I'm really focused on my Miss Universe journey, on being the best global representative that I can be, and also being a representative for the Philippines through and through."
READ: Miss Universe 2018 Catriona Gray confirms she is now single
READ: Catriona Gray on her relationship with Clint Bondad: 'You outgrow each other in a way'
It may seem like the two have ended things on a sour note, but Clint was quick to clarify that he and Catriona are "all cool".
"Read everything in an uplifting voice! It really is no biggy. We are ahead of you guys in time so we are all cool," said the Filipino-German hunk on his Instagram Stories.
"We were matured to talk about this happening. The feeling is very mutual and comes from a caring side for each other. Cat is always a fun gal to me. Enjoy life!," he added, citing that there's no need for fans to feel sympathetic for both parties.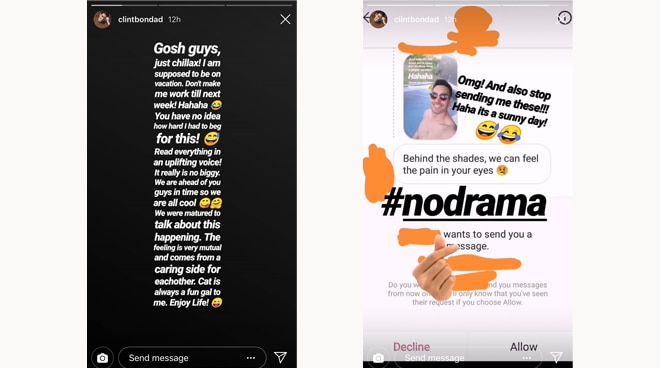 Clint has previously opened up about his unexpected split with Catriona through an Instagram post last Friday.
"I stand by all I have ever said about you. You are still the most beautiful woman that I have ever met. I wish you the very best on your path, wherever it will carry you...Truly," he said.
"This is certainly not what we both wanted, but most certainly what we both need at this point of our life," he added.
READ: Clint Bondad on breakup with Catriona Gray: 'Certainly what we both need at this point of our life'