The TNT Boys have just reached Hollywood-level status after appearing on The Late Late Show With James Corden as the comedian-host's special guests for his latest episode Monday, February 19 (US Time).
Prior to their much-awaited performance, the singing trio — comprised of Keifer Sanchez, Mackie Empuerto, and Francis Concepcion — got to talk with James regarding their stint on CBS' new reality talent show The World's Best, which the award-winning presenter happens to host as well.
"You are, I gotta say, are my favorite new boy band on planet Earth," said James of the TNT Boys.
According to James, one thing he couldn't help but notice about Francis was the young singer's mumbling throughout the show — something that he later learned was a manifestation of equal parts excitement and nervousness as the three get to perform in front of several Hollywood big names.
As they get to their performance of Jennifer Holliday's classic "And I Am Telling You," the TNT Boys were shocked to be joined by none other than recent Grammy-award winner Ariana Grande.
"You guys are so incredible," said Ariana to the gushing trio after their performance.
As they met backstage after the show to chat and take photos, the Hollywood star confessed that she was actually nervous prior to their performance. She also praised the three again, calling them incredible once more. "It was so nice meeting you guys. And, singing with you, thank you again. You're incredible," Ariana said.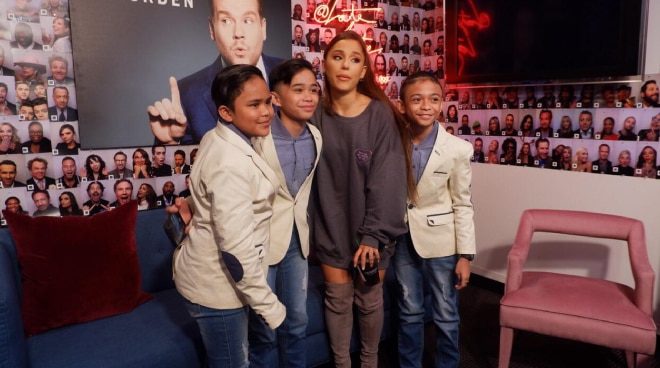 Catch more of the must-see highlights from the TNT Boys' special guesting here:
Stay updated with the TNT Boys through their social media accounts: https://www.facebook.com/TheTNTBoys/
IG - @thetntboys
TW - @thetntboys
YT - https://www.youtube.com/channel/UCuF4rdAt6aioxAqGC6-Poqg/featured