He is not a television director and filmmaker who has been feted like many of his contemporaries and those of the newer breed, but everyone he works with loves his on-the-set persona. While his presence amidst his colleagues seems modest, the words people use to describe his attitude are in the superlatives. His works have endured in an industry that changes constantly. Such is the endearing charm of Jerry Lopez-Sineneng.
Remaining focused at work and making his teleseryes' and movies' stories evolve for viewers to believe their realism have become mantras of Director Jerry. Whether it's heading brainstorming sessions, presenting bullet-pointed indices of a plotlines' progression, setting the shots for every camera's angle to be flawless, or conferring with scriptwriters on dialogue, JLS is a hands-on man who simultaneously helms and collaborate.
"Para sa akin all these things I do behind the camera is important because I love connecting very much and very well with people I work with, artistas or crew, outsourced or regular staff. I always see them all sa set as family. A really big happy family," he says with a beaming smile.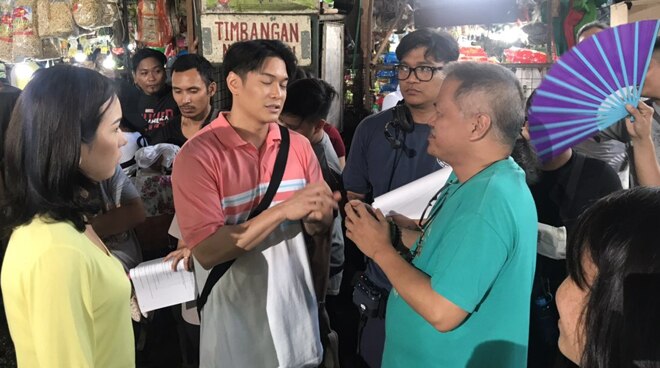 Like a regular Gemini, he is basically a happy person. "Split personality and most identified na personality ng Gemini. Pag happy kami we're really happy. Pag sad kami ay we're really sad." Then he interjects, "But most of the time we are the life of the party!"
The director, who started working in the movie industry in 1985, really treated his work with happiness and love and was swiftly promoted from wardrobe master to production manage to scriptwriter to assistant director and finally a filmmaker. At 53, Sineneng still possesses a youthful bearing.
When asked to identify at least three movies that are close to his heart, light stories or comedy hardly come to mind. "Oh I loooove the drama Soltera (1999), the hit starring the first ever teaming of Diether Ocampo and Diamond Star Maricel Soriano. Gusto ko rin young melodrama-rom-com Labs Kita, Okey Ka Lang? (1997) marka ng love team ng Marvin Agustin and Jolina Magdangal. Although isa pa lang na nakaka-takot ang nagawa ko, gusto ko ulit gumawa talaga nung katulad ng 'Wag Kang Lilingon (2006) of Kristine Hermosa and Anne Curtis."
Admitting to be a fan of romances, thrillers, and melodramas, JLS was unexpectedly excited about his latest project, a family comedy. "I personally light up and laugh when I am directing a movie like this." Pamilya Blandina is an intelligent laugh confection where culture clashes and individual differences can still pave a way for people to bond. "Sa story, Karla Estrada's first husband ay Amerikano. All their kids are blonds. Si Jobert Austria and first wife niya British. Nagkaroon sila dalawang anak, also blonds. To cut the story short naging mag-asawa si Karla and Jobert. So nag cla-clash ang cultures Brits versus Americans. Beliefs and perspectives laging may sapawan." But one of the important messages it tells is "bilang comedy it has reminders for families and millennials. It touches on the generation today, telling them what they are missing. Hindi porke sa abroad ka lumaki, kalilimutan mo ang value na ganito. Para sa mga batang lumalaki ngayon, o ha paalala lang," the filmmaker says with a tone of admonishment.
JLS mentions that his closeness to his family is due to his love for his mother. "I feel very very lucky because the values instilled to me by my mother are what I also instill to my pamangkins and our other relatives. Everyday ha every day, I make it a point I talk to my mom. She is still well at 85! I do not let any day pass by na hindi kami nag-uusap. Kase had it not been because of her, I would not have been in this lucky status of my career. My family is my life. My values were shaped by my family. That is why my family is my life," he says matter-of-factly.