Beauty queen Pia Wurtzbach and race car driver Marlon Stockinger have reportedly called it quits, putting an end to their on-and-off relationship for almost three years.
Below is a timeline of key moments in the couple's relationship over the years.
OCTOBER 2016: Rumors that the two are seeing each other swirled after a photo of them together in New York circulated online. In an interview with ABS-CBN News, Marlon denied dating Pia and maintained that they are just "close friends". After a few weeks, he retracted his statement and admitted that he is indeed seeing the beauty queen. "The truth?" he was quoted as saying in an interview during the 2016 Star Magic Ball. "Let's put it this way if Pia was here tonight she'd be my date here so yeah obviously we see each other but we just want to keep it down low pretty much but yeah, I've been seeing Pia."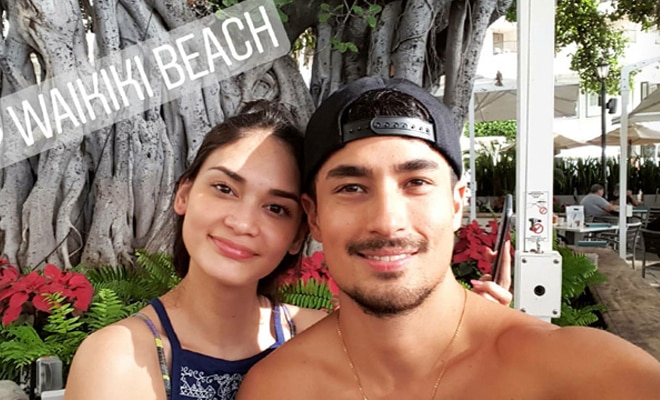 JANUARY 2017: Pia confirmed with ABS-CBN News that she and Marlon are officially together. "I'm glad that I finally met somebody who's very secure with himself and who understands my job, and who's not afraid to let me have my moment such as right now, now that the competition is happening here," she said.
In her guesting on "Tonight With Boy Abunda" days later, Pia proudly proclaimed that "Marlon is mine". "Now, I can be open about it. I'm not half-hearted... I am very happy," she said.
Marlon, for his part, said that he's the luckier one in the relationship. "Pia Wurtzbach is... also mine," he said. The Filipino-Swiss driver also revealed that he and and Pia have known each other for a long time after being introduced by their common friends, but weren't romantically involved until they met in New York in September 2015.
READ: Marlon Stockinger shares what made him fall in love with Pia Wurtzbach
According to Pia, it was Marlon's efforts to fly across the world just to get to know her more that made her fall for him.
"We've known each other for a while but we really got to know each other more when he went to visit me in New York. That's where I really appreciated the effort because that's the first time somebody has flown from the other side of the world to see me," she said.
"Hindi naman niya alam kung ano ang mangyayari sa amin. He just wanted to get to know me more. I appreciate that. He really makes an effort. He knows how busy I am. He knows I can't fly to him, then he flies to me."
One week since they admitted their relationship, Pia and Marlon made their first public appearance as a couple at an event paying tribute to the Miss Universe 2015 titleholder. "I am just happy to celebrate this for her," the race car driver was quoted as saying by ABS-CBN News. "Everyone is here to come and support. I am just very very proud."
On the subject of marriage, Marlon said that he and Pia are too early for them to consider settling down. "We've only just been boyfriend and girlfriend so to think about these things like marriage, I think it's a bit further down," he said on "Tonight With Boy Abunda. "Who knows where we will end up? Pero I think it's nice to take it day-by-day without that pressure," he said.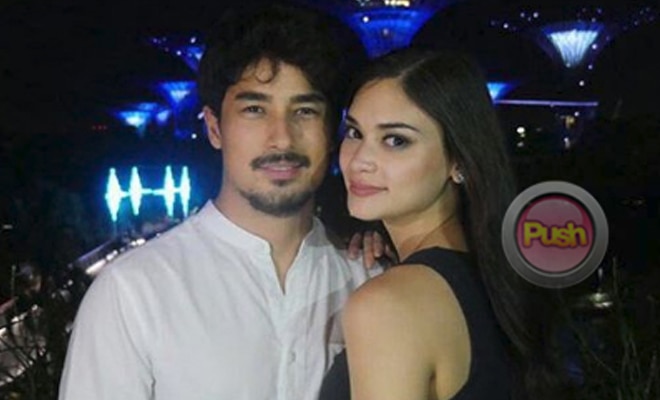 FEBRUARY 2017: The couple celebrated Valentine's Day by go-karting together at the Carmona Racing Circuit in Cavite. In an Instagram post, Pia described the simple celebration as "the perfect date".
MARCH 2017: Pia said that she and Marlon still haven't discussed the topic of marriage. "Oh no, we haven't talked about that. I'm not thinking about that as well," she told ABS-CBN News. "I'm very career-driven. My focus right now is my work. Marami pa akong gustong ma-achieve sa trabaho. Wala pa 'yun. Bata pa ako, huwag muna."
Their relationship was then was put to the test when model Kit Barraquias claimed that Marlon is the biological dad of her twin daughters. Though he never publicly addressed the controversy, the race car driver said that he had already dealt with the issue in private, with Pia's support.
He also said that the rumors didn't affect his relationship with the beauty queen. Pia, for her part, said that it was the first time she heard about the issue when cornered by PUSH. "Are you sure it's the same Marlon? There's a lot of Marlons," she said. "I don't know anything about that."
The two then marked their first time to appear on national television for an interview together on "Gandang Gabi Vice", where Marlon asked Pia if he could call her as his "official girlfriend", despite already admitting being together. In the same episode, the beauty queen admitted that she had a crush on her boyfriend as early as 2014. "Sine-search ko [si Marlon] ganyan at pinakita ko sa mga friends ko, 'Uy, ang guwapo nito,'" she shared.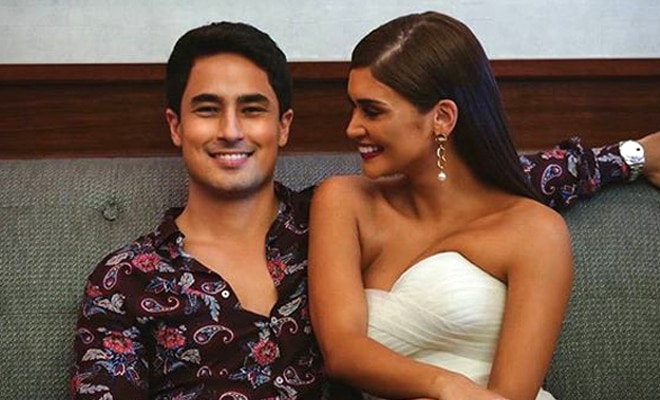 APRIL 2017: Amid rumors hounding their relationship, which swirled following reports that the couple unfollowed each other on Instagram, Marlon and Pia remain unfazed, as seen when they were spotted all cozied up during the former's 26th birthday together.
Marlon then publicly addressed the rumors about their supposed breakup as he posted a photo of him getting cozy with Pia on Instagram, captioned, "Nothing's changed."
JULY 2017: Hawk-eyed fans noticed that Marlon unfollowed Pia on Instagram, while he remains on the list of people the beauty queen follows on the photo-sharing site. Later, the race car driver clarified why is such: "For me, it's just sometimes you like to test it and see that even when you do things like this, everyone can even talk about it. That's just it. We are following each other and there's no issue."
He also assured fans that he and Pia are doing just fine. "I think we are just keeping it private. It's always good to show everything, a lot a bit in the beginning but what matters is the two of us in the end behind closed doors. We don't always have to show that or share that either," he said. "It just means more quality time. It's a great thing. You appreciate it more that way."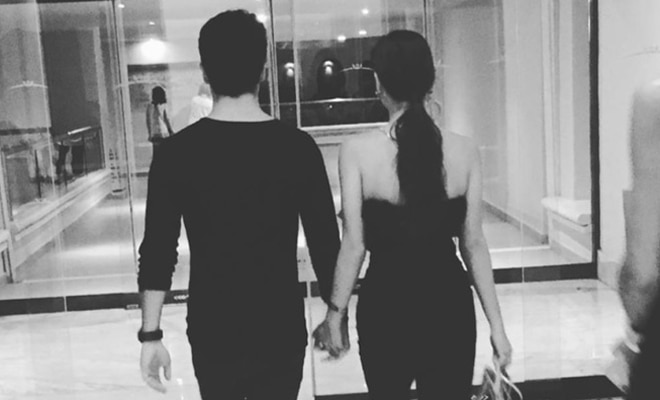 AUGUST 2017: Pia and Marlon gave their fans another reason to worry after they decided to delete photos of each other from their respective Instagram accounts.
But it turned out that they have nothing to worry at all, as the couple's relationship appeared stronger than ever during their vacation in Cancun, Mexico together.
NOVEMBER 2017: Pia and Marlon marked their first anniversary as a couple. On Instagram, the beauty queen shared her short but sweet anniversary message for her boyfriend. "A day delayed cos I was travelling back but happy anniversary my love!" wrote Pia, who was at the time on her flight back from judging the Miss Universe pageant in Las Vegas.
DECEMBER 2017: Pia admitted that she is open to the idea of spending the rest of her life with Marlon. Speaking on "Magandang Buhay", she said: "Para sa akin, palaging hopefully maganda 'yung magiging ending ng pagsasamahan. At parang wala na din naman ako sa age para mag-enjoy enjoy."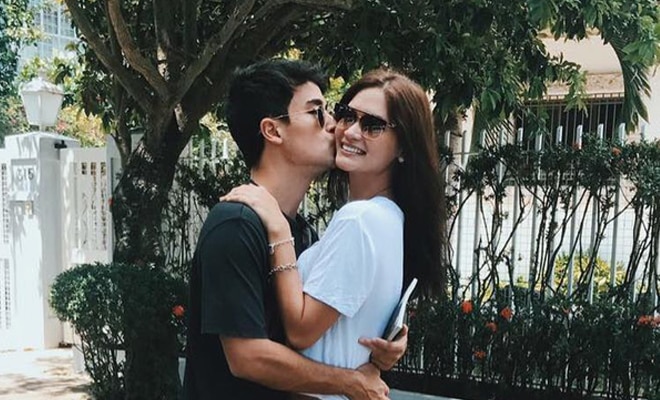 MARCH 2018: Rumors romantically linking Pia to her "My Pefect You" leading man Gerald Anderson afloat after the actor's boyfriend, Bea Alonzo, unfollowed both him and Pia on Instagram, and deleted photos of him and posts promoting the movie from her page.
However, the beauty queen and her racer-boyfriend seemed unfazed by the speculations as they attended a block screening of "My Perfect You" together.
JULY 2018: Just two weeks after being seen in public together, Pia and Marlon yet again made the headlines after unfollowing each other on Instagram again. Some netizens claimed that the incident may have something to do with Pia's decision to watch the the concert of South Korean boy group Super Junior, where she was seen fangirling over member Siwon Choi. She even posted a photo with the star on Instagram.
AUGUST 2018: Fans expressed their concern after the beauty queen took to Instagram to share a photo of her taking a stroll in Los Angeles, California, captioned, "No boyfriend? No problem." The photo was to promote a pair of "boyfriend jeans" sold by a brand she is endorsing. Many hawk-eyed followers were also quick to noice that Pia has deleted most of her photos with Marlon on her page.
SEPTEMBER 2018: Pia and Marlon put to rest the persistent rumors that they have broken up as they attended their first ABS-CBN Ball together. Speaking with the media, she said: "Come on, I never had an interview where I said that we have broken up."
LOOK: Pia Wurtzbach, Marlon Stockinger mark second anniversary with a lovely dinner date
NOVEMBER 2018: Speaking on "Tonight With Boy Abunda", Pia explained why she and Marlon no longer follow each other on Instagram, and why it's better that way. "Para kapag nag-away kami, hindi namin nagiging target ang social media. It works for us. We enjoy it this way. Somehow, it's working for us," she said. While having been the subject of breakup rumors for quite some time, the Filipina-German model also assured fans that she and her boyfriend are still very much happy together. "Marlon is my best friend and I feel like he knows me the best. He knows Pia and not the Miss Universe [winner]," she said.
Later that month, they celebrated their second anniversary as a couple with a surprise dinner date organized by Marlon. In an Instagram caption, he wrote: "We've both been busy for awhile and she's been hinting for a dinner date. I hope you enjoying my little surprise for you. Cheers, here's to many more years! Happy anniversary love!"
DECEMBER 2019: Pia's business manager, Rikka Infantado-Fernandez, confirmed that Pia and Marlon have called it quits. "Yes, it's confirmed [that they've broken up] and you can quote me on that," she was quoted as saying. "On and off naman na matagal na, but 'yung final was October pa." While Marlon has yet to address the issue as of this writing, Pia has sent a statement to ABS-CBN News' MJ Felipe confirming their breakup. "It's true that Marlon & I are no longer together. I wish him & his family well,and out of respect for them, let me make it clear- Marlon & his family never depended on me financially. This will be my only statement on the matter. Thank you for your support," she said.