Actress Jasmine Curtis-Smith is staying positive despite the flak against her latest movie, the Metro Manila Film Festival (MMFF) entry "Culion".
On Instagram on Friday, the 25-year-old star posted a series of stills from the drama film, captioned, "Our community in [Culion]. Out in theatres now. And if it isn't, ask your local cinema and make sure others help demand for it, too so that they screen us there!"
One user then commented to state that the actors and actresses of "Culion" support animal cruelty, hinting at an old controversy that director Alvin Yapan got embroiled in during the screening of his MMFF 2017 entry, "Oro". The said film featured a scene that the filmmaker described as "a practice among ruralfolk where dogs are part of their foodfare."
"While I totally understand where you and everyone else posting about this is coming from, please let it be known that our film's storyline has nothing to do with that," replied Jasmine.
"If people are not ready to forgive the past, it's okay (maybe one day or maybe never; it's subjective), but let's not hinder the beautiful story of the island, Culion, from being heard and known across the country. The power of unite, strength in hope and faith that the residents embodied during a time when all else failed -- medicine and support, shows so much of our values and identity as a culture facing struggles. Let's try [to] focus on that," she added.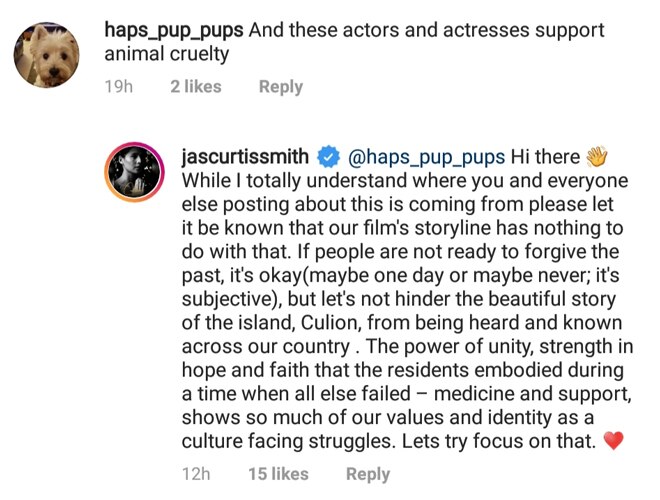 Set in the 1940s, "Culion" revolves around the story of three patients afflicted with Hansen's Disease, or widely known as leprosy, who live in Culion at a time when the disease is practically a life sentence.
According to its official synopsis: "No cure has yet been found, and no one is allowed to leave... Together, the three friends try to negotiate a life of stigma that seesaws between hope and despair, redefining their roles as women, mother, friend, and human beings. In the end, they prove that neither disease not death can erase their humanity and their capacity to endure."
Aside from Jasmine, "Culion" also stars Iza Calzado and Meryll Soriano, with the special participation of John Lloyd Cruz.