Marjorie Barretto took to social media Sunday to taunt her sister, Claudine Barretto, after the latter claimed that she threatened to hurt their mother physically "earlier this year and in so many more times" on Saturday.
The statement of the younger Barretto came with a shaky video on Instagram in which Marjorie could be heard saying that she would like to punch a person named "Inday", allegedly referring to their mother, Estrella "Inday" Barretto.
"This was the argument my mom and Marjorie had regarding Julia's 500k hospital contribution," said Claudine, referring to Marjorie's daughter, Julia Barretto, who allegedly paid for the hospitalization of the late family patriarch, Miguel Alvir Barretto, in exchange of her grandparents' home in Subic.
"Here's a fact: Marjorie came out of the intensive care unit (ICU) where my dad was in a critical condition. Only two visitors at a time can enter the ICU (it was only mom Inday and Marjorie inside the ICU). She then says, super drama si Inday, baka MASAPAK KO (who then can she refer to other than my mom inday?)" she added.
Responding to this, Marjorie, in a comment she left on Claudine's Instagram account, dared her sister to "prove this twisted story of yours in court."
"Prove that I have ever tried to physically hurt my Mother. And PROVE this was the argument that my Mom and I had about Julia giving 500k in exchange for the Subic home. PROVE it," she said.
Marjorie went on to state that Julia has repeatedly made it clear that she "was not buying the Subic house, long before Dad died."
"That was clear to all, all siblings knew that, you wrote it down in your paper, and you were recording it from your phone without our consent," added Marjorie, who said that it was only after their father had died that Julia paid the 500k "and so much more than any of us."
"You are making up this story. I will see you in court, the rest of the family will stand by me as witnesses," she continued.
Marjorie also claimed that it was she and their other siblings, Gia and Mito—and not their mom—who were inside the ICU.
"'Wag mag-imbento... Take your proper medications please. Nahihilo ka na sa kwento mo," she said.
"You want the TRUTH okay, the family and I will tell the whole truth..." she added.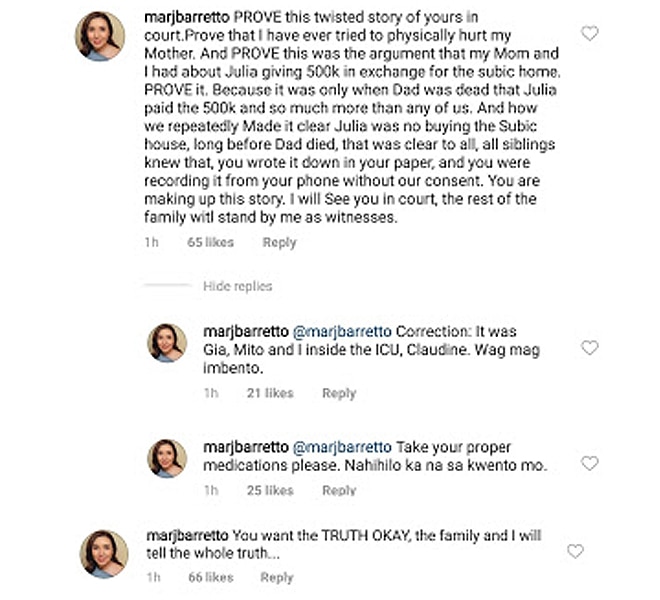 Claudine, for her part, responded by posting a screenshot of Marjorie's comment that she should "take her proper medications" in a separate post on Monday.
"Oh my! What happened? Why did you TAG YOURSELF Marjorie? Tsk tsk," she said.
"Don't worry I drank my meds. So should you. Mock me all you want BUT NOT PEOPLE WITH MENTAL ILLNESS. don't your children see a psychiatrist?" she added, along with hashtags #stopthestigmamentallillness and #mentalillnessisnotajoke.
Prior to this, the Barretto sisters also traded barbs in an Instagram post shared by Claudine in which their mother, in a statement, claimed that she was indeed the "Inday" Marjorie referring to in the aforementioned video.
"Nagsalita na ang Mommy. The truth will always, always prevail," wrote Claudine as caption, in which she tagged their other sister, Gretchen Barretto.
Responding to this, Marjorie wrote: "Let's give everyone the truth and nothing but the truth, but first, take medications. Second, find your witnesses and evidences.
"You are lying, Claudine. Just as always."

The word war between the siblings came in the midst of the latest controversy to rock the showbiz Barretto clan following the reported scuffle involving Marjorie, Claudine, and Gretchen at the wake of their late father last month.
The family patriarch eventually passed away on October 15 due to acute respiratory failure. He was 82.