A fan left a message on Andi Eigenmann's Instagram recently saying she felt bad when the actress declined her request for a selfie.
The netizen explained that she felt bad because people around them laughed when Andi declined her request.
"I felt so embarrassed today when I tried to ask for a picture at the Coffee Bean at SM Cherry Shaw because everyone laughed when Andi declined (crying emoji)," she wrote.
The actress then apologized for not granting her request since she was having private family time but gave her fan some advice.
"Please don't pay too much attention to what others think because it won't do you good. Also, please don't take that personally," Andi wrote.
"I'm sorry if I was having my private time with the fam when you had asked. I do appreciate that you took the chance to ask either way," she added.
The netizen soon apologized for "interrupting" her family time.
"I'm sorry for interrupting your private time with your beautiful family. It's just that this will probably be the only time in my life that I will get to see you in real life. Sorry again. I'm so stupid for asking. I don't know what I was thinking," the netizen said.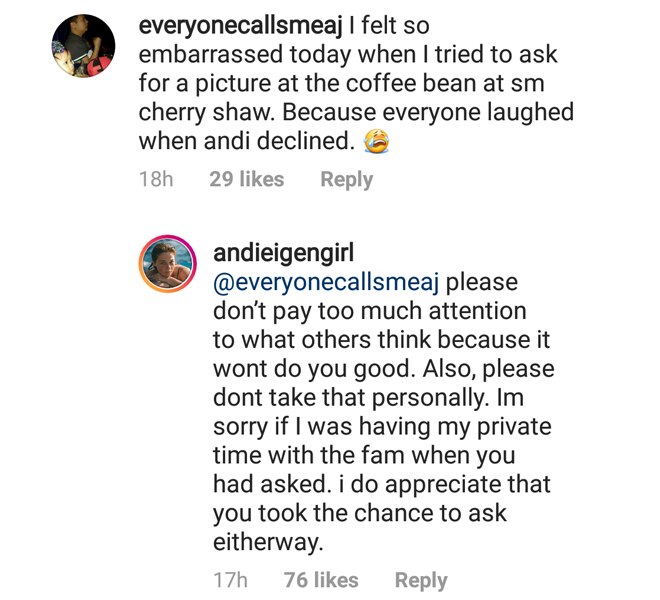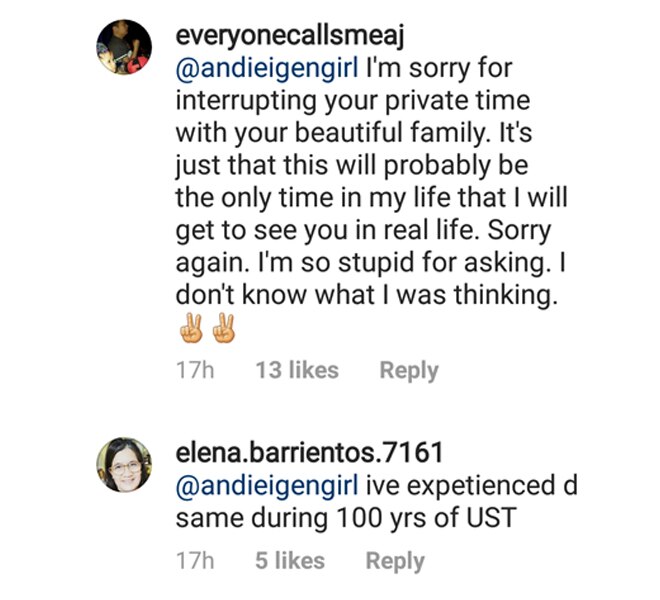 Andi is not the only celebrity who chose to not take photos with fans while on a break. Earlier this year, Angelica Panganiban politely declined to take a photo with her fan because it was also her private time.