Pia Wurtzbach will not be able to make it to this year's Miss Universe pageant which will be held in the US this December. The beauty queen said that she already committed to a project in Japan, which will fall on the same date as the pageant.
"My travel show was invited by the tourism board of Japan to feature a festival in Fukuoka. Our working visas were released already before MUO announced the date and venue," Pia told a netizen when asked why she could not make it to the pageant.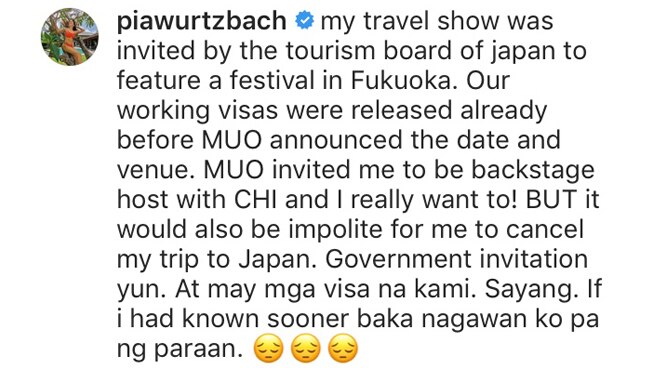 She added that she was supposed to do backstage hosting during the coronation.
LOOK: After Catriona Gray, Pia Wurtzbach posts selfie without makeup
"MUO invited me to be backstage host with Chi and I really want to! But it would also be impolite for me to cancel my trip to Japan. Government invitation 'yun. At may mga visa na kami. Sayang. If I had known sooner baka nagawan ko pa ng paraan," she stated.
Miss University 2019 will happen on December 8 in Atlanta, Georgia where the Philippines' Catriona Gray will crown her successor.