Dominique Cojuangco, the only child of Gretchen Barretto and Tonyboy Cojuangco, has clarified her absence in the wake of her grandfather, Miguel Alvir Barretto, who passed away on Tuesday, October 15, after reportedly suffering a heart attack.
This, after a netizen told Gretchen and Dominique to "pay some respect" to the family patriarch instead of "partying" in the midst of chaos among the Barretto clan.
The comment might have been pertaining to a video of Gretchen attending an engagement party of a friend a day after visiting the wake of her father at The Heritage Park in Taguig on Thursday, the same day reports of an altercation between her and sister Marjorie Barretto abound online.
Moreover, Dominique had just recently attended the wedding of Albert and Liezl Martinez's daughter, Alissa Martinez, in Canada, as seen in a photo she posted on Instagram on the final day of her grandfather's wake.
"You don't know me," said Dominique in response to the comment, for the first time making a statement amid the controversy.
"Are you in your grandfather's wake?," replied the user.
"I'm in a completely different country with a job," answered the younger Cojuangco.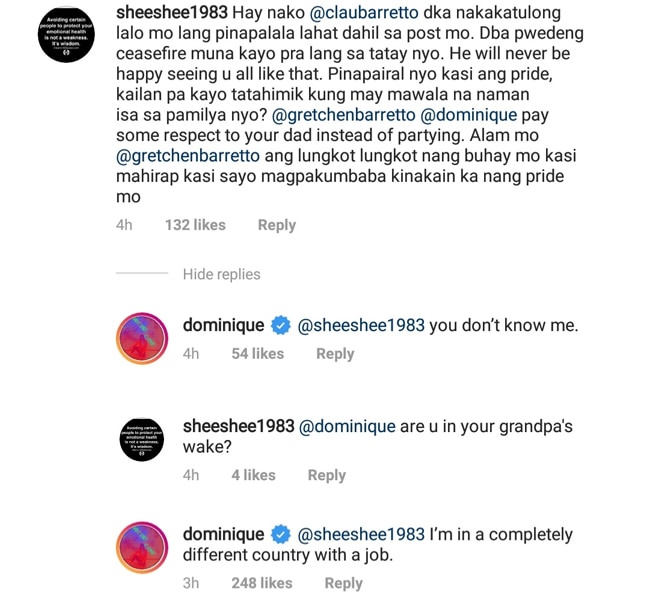 Dominique, who completed her college degree at a fashion school in London, works as a fashion designer and is now based in San Francisco, California.
Currently, Dominique is with her mom Gretchen in the US. The seasoned actress left after Mr. Barretto was cremated and finally laid to rest on Saturday, October 19.