Former actress Jackie Forster posted a lengthy message on her personal Instagram account, addressing bashers who chided her for allegedly taking sides in the controversial spat between celebrity sisters Gretchen and Marjorie Barretto.
This, after Jackie publicly expressed her support for Marjorie, who is a long-time friend, in the wake of reports stating that the latter had an altercation with Gretchen at the wake of their late father, Miguel Alvir Barretto, on Thursday at The Heritage Park in Taguig.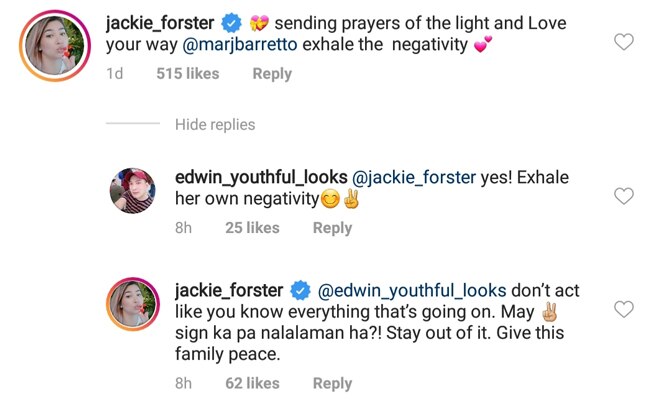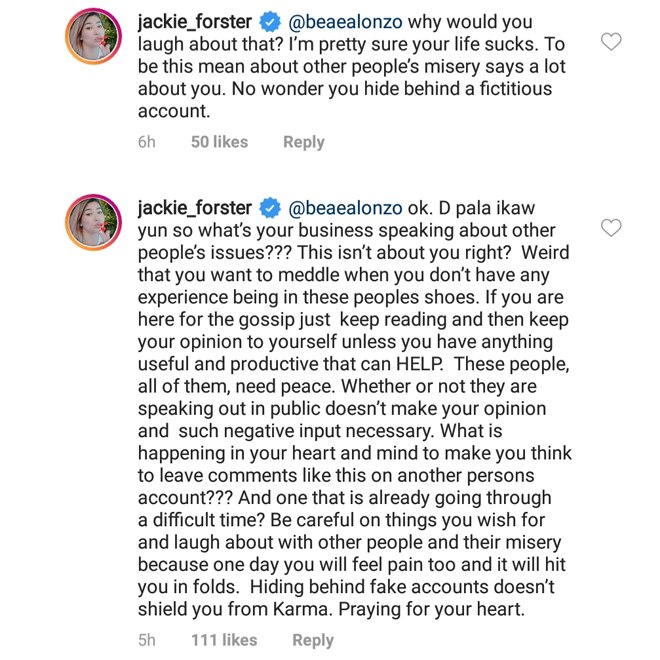 In her caption, Jackie said that she does not encourage fights on her page, as she does not like it when people argue instead of having "open discussions."
"People always want to take things out of context and read what I say as if I'm mad or angry. If you really knew me, you would know that I try to be patient and understanding. I try my best to understand why someone is the way they are and what they could possibly be going through for them to behave the way they do," she began.
Jackie said that she would no longer try to explain herself further to those who choose to misunderstand her, instead, "I will just block you and mute those who like the negative comments as well".
"Now for the future if you have been blocked and there is anything I am involved in that you might benefit from, maybe try a different avenue and apologize first before asking or receiving anything from me. But while you are in a negative state/space you are not welcome on my page. I have many women (a few men) following me that don't have same opinions on things but most of them are respectful when they are on here. For the ones who have been following for some time I'm sure you have seen me post that. We can all agree to disagree on things but the foundation of what we stand for and why we do what we do will always be constant," she continued.
Ending her statement, Jackie said that she wishes everybody well, despite being the incessant target of bashers who are "wishing me ill and even going so low as to DM nasty things to my children."
"The internet is filled with people possessed by all sorts of demons, so I refuse to allow them into my life through social media. Sending love and light to you all. God bless the intentions of your heart," she added.
Read her full post below: