What if "Archie" is set in the Philippines?
An illustration made by graphic artist Miguel Mercado imagines just that for the first Philippine-exclusive cover of "Archie", as part of the first volume of "Archie & Friends Travel", which is a compilation of comic strips showing the gang in different parts of the world.
In the cover, which was unveiled at the recently held SuperManila Pop Culture Convention, Archie wears a Manila jeepney shirt, while Betty and Veronica hold glasses of Pinoy snack "halo-halo". Also with them is Jughead, in flip flops, eating barbeque and isaw (chicken intestines), and Reggie taking a selfie. The artwork is set in front of Rizal Park, which is surrounded by Philippine flags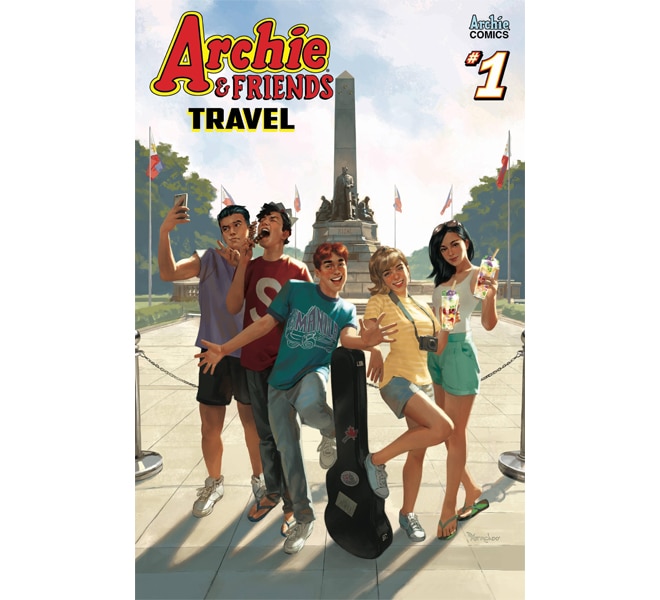 (Photo from ABS-CBN News)
Talking to ABS-CBN News, Mercado, who is also the artist behind the cover for the recently announced Amazing Spiderman #33, shared that SuperManila's organizers—Filbar's and Comic Odyssey—reached out to him for the commissioned artwork.
"I didn't expect it at all... It just gave me a sense of how much I love this country and enjoy this country," he said.
"I am so happy seeing something from my childhood," he added. "Me being a big fan of Archie as a kid and seeing them 'coming here' and drawing it just made me so happy."
Mercado said that he hopes to share the same feeling with other fans of the comic when they see his artwork.
"They see it and they be brought back to their childhood," he added.
According to Filbar president Jacob Cabochan, more and more Filipino artists are being recognized to create artworks for international titles.
"Internationally, Filipinos are really known for being talented illustrators," he said. "Publishers are also now seeing how the Philippine market has grown."
He said that this is why publishers like Archie Comics, which has long been the leading mass market comic book publisher in the world, are keen on producing Philippine-exclusive covers.
Besides the said variant cover, SuperManila is also showcasing the Philippine-exclusive covers of Wave for Aero.