Just like with her sister Marjorie, Gretchen Barretto isn't done yet taking jabs at her niece, Julia.
On Saturday, Gretchen said that it's time for the younger actress to change from being a "Barretto" to "Baldivia", pertaining to her birth name, Julia Francesca Barretto Baldivia.
According to Gretchen, Julia would've become a nicer child had she been raised by her father, comedian Dennis Padilla (born Dennis Esteban Dominguez Baldivia), instead of Marjorie.
"Ang bait mo ngayon kung kay [Dennis] ka lumaki," she said.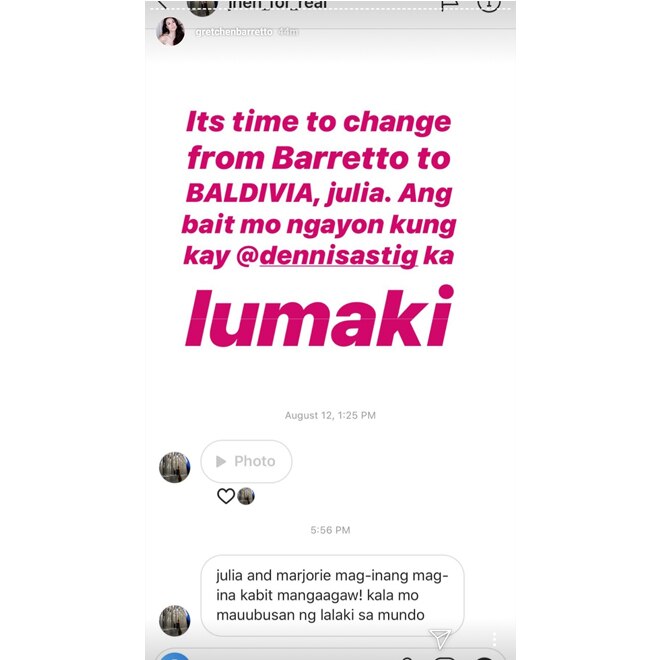 The statement comes just days after Gretchen chided Julia for publicly expressing her support for Marjorie in the middle of an escalating feud involving the two sisters.
At that time, Gretchen had told her niece to acknowledge that she is first and foremost a Baldivia and to "love your father, not only when you need him for publicity."
"Respect those who gave you a good life. Only then, you can say you are successful," she added.
Shortly after Gretchen's statement, Julia released a letter for her late grandfather Miguel on the image-sharing site, saying that she will remain still and keep her peace "despite all these false accusations targeted at me" and "all the lies being spread about my family and me."

"I will exclude myself from a battle that is not mine, but I will still stand by my mom and will be there for her no matter what happens," she added.