Dina Bonnevie's 'gloomy day' kind of affected her mood and while she was in low spirits, her 'angels' or home helpers made an extra effort to make her happy.
Three of her unnamed 'angels' went to her room and brought some freshly picked flowers, cake that they bought, and a wine from their 'ref' which made the seasoned actress laugh.
In the clip, she was heard laughing and grateful with their surprise.
"Lahat talaga gagawin ha, para saan?" Dina asked them.
Her sweet angels said, "Para sumaya kayo."
"Thank you sa inyong tatlo, talaga namang I'm lucky to have people who cheer me up. Thank you Lord," she said.
In her caption, she also expressed her happiness with their sweet gesture.
"I'm so blessed to have people who really go out of their way to cheer me up when my day is gloomy. Thank you Lord!"
While most of the netizens thought that it was her birthday, one of Dina's angels responded on Instagram that there wasn't any occasion to celebrate, they just wanted Dina to feel happy when she was feeling down.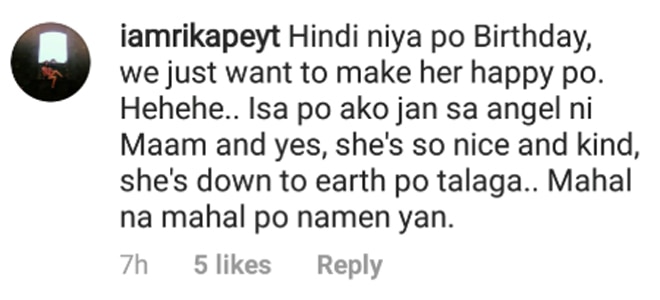 "Hindi niya po Birthday, we just want to make her happy po. Hehehe.. Isa po ako jan sa angel ni Maam and yes, she's so nice and kind, she's down to earth po talaga.. Mahal na mahal po namen yan," she wrote.
Netizens were impressed since this is also far from Dina's usual 'mataray' and 'kontrabida' image that is often seen on TV whenever she portrays antagonist roles.