Gretchen Barretto took to Instagram to praise Nicko Falcis, the businessman who is in hot waters with Kris Aquino after he allegedly spent Kris Cojuangco Aquino Productions (KCAP)'s money for his personal transactions.
Gretchen shared the headline where Nicko swears that the Queen of All Media told him, "Papapatay ka ng pamilya ko."
"I feel for Mr. Nicko Falcis after reading this article. I salute him for his courage to speak the truth, fight for his family name and reputation in spite of the threat to his life," Gretchen wrote and added "No to bullies" and "Stop power tripping.'
However, when fans asked Kris about the issue, the actress calmly gave her reply in one of her Instagram posts' comments.
"In this issue I choose to look back in 1986. @gretchenbarretto may dislike me now but she campaigned for my mom against the Marcoses. Dedma na sa pagtingin niya sa 'kin. I have stated this time and again -- I can look beyond insults against me because it's part of the territory. But if my mother was treated with respect and my sons weren't hurt, I am chill. If I am chill maybe all of you should be too?" Kris stated.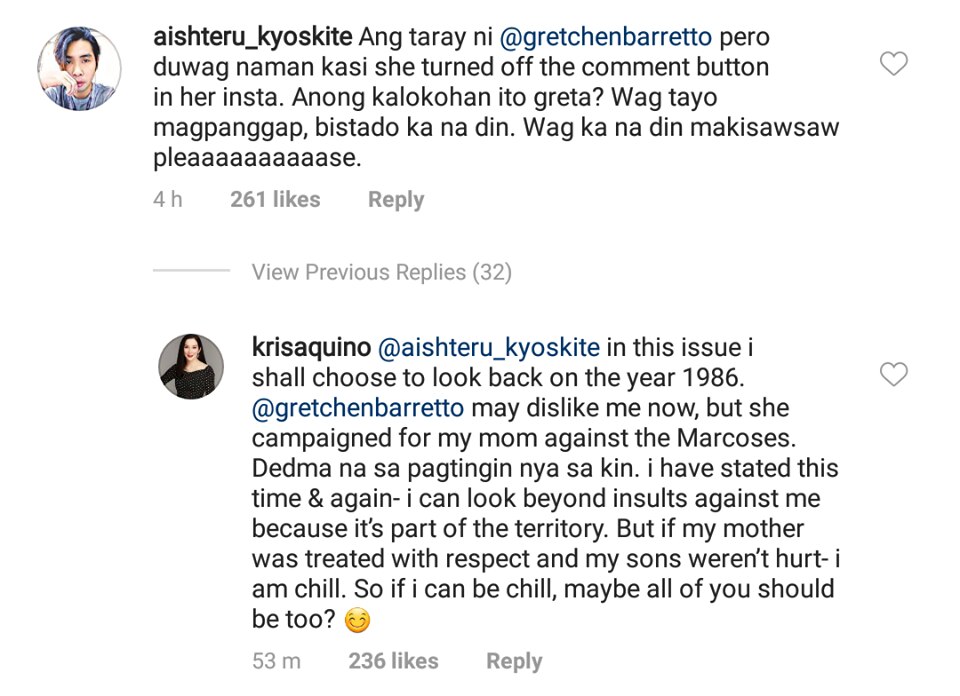 Kris and her team of lawyers gave a press conference yesterday, January 5, regarding Nicko Falcis' allegations against her including her supposed 'death threats' to him.
READ: Kris Aquino answers Nicko Falcis allegations saying she owes him 9 million pesos
"Kung meron threat sa 'yo ang gagawin mo lang ay mag-i-execute ka ng affidavit, sasabihin mo kung sino yung nananakot sa 'yo at ipa-blotter mo. Dalhin mo lang sa closest police station," Kris' lawyer Atty. Sig Fortun said regarding the matter. He added that Mr. Falcis did this as part of his 'delaying tactics' regarding the cases filed against him.