In an Instagram post last January 4, Kris Aquino shared photos of her son Bimby with sisters Toni and Alex Gonzaga from the block screening of Mary, Marry Me that she had organized. Kris explained in the caption why the Gonzaga sisters are close to her heart.
"(Toni Gonzaga) & direk (Paul Soriano) are my wedding inaanaks and we have managed to remain in communication regardless of life changes and I fervently pray that God will bless me with good enough health that I may shoot direk Paul's horror movie because the storyline they gave me is 1 of the best I've ever read," Kris wrote in her Instagram post.
Mary, Marry Me is the Metro Manila Film Festival movie entry of the Gonzaga sisters, produced by Toni's husband, Paul Soriano.
The 47-year-old actress and host also recalled the time when Alex and Bimby first became close friends when the two worked together on the film, Praybeyt Benjamin. "Alex Gonzaga is Bimb's Tita Cathy. I'm so grateful to her because since 2014 when they worked together in Praybeyt Benjamin she has remained Bimb's kakulitan and true friend. My heart overflows with happiness that my bunso was able to share the experience of watching Mary, Marry Me with many smiling faces. I'm still working," Kris added in her post's caption.
Alex and Toni, as well as Paul Soriano, immediately replied in the comments section and thanked Kris for supporting their movie.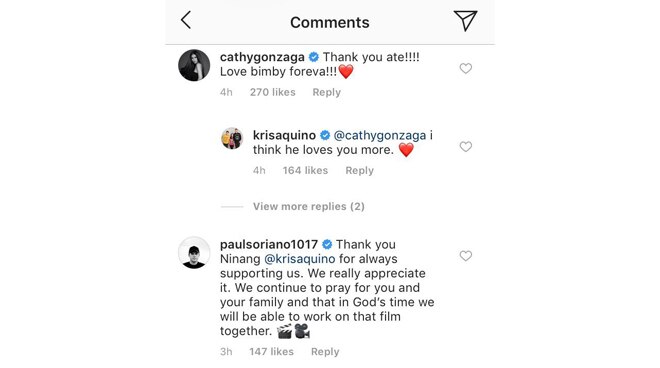 After the block screening and one endorsement shoot, Kris Aquino along with her two sons, Joshua and Bimby, rushed to watch another MMFF entry, Jack Em Popoy: The Puliscredibles in support of her other friends.
Kris also added that she is planning to watch two more MMFF movies the next day, One Great Love and Rainbow's Sunset.
Metro Manila Film Festival movies will still be available in cinemas nationwide until January 7.