Last Wednesday, 18-year-old actor Marco Gallo took to his Instagram Stories to share a peek at his workout session with fellow Pinoy Big Brother housemate, Ylona Garcia, who he said is set to be his gym partner for the year.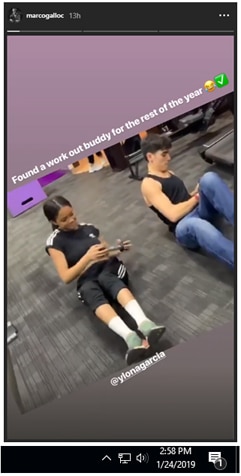 Following a near two-month hiatus to pursue a modeling career in Italy, Marco is back in the Philippines to promote his comeback project, Arctic Sky Entertainment's newest comedy film offering Familia Blondina.
Billed as "one of the most hilarious, funniest, and wackiest movies of the year," the flick features other breakthrough actors as well, including Kira Balinger, Jobert Austria (a.k.a. Kuya Jobert), Awra Briguela, Heaven Peralejo, Negi, and Xia Bernardo, together with seasoned actress and comedienne Karla Estrada.
WATCH: Prepare to laugh out loud with 'Familia Blondina'
Familia Blondina, a film by Jerry Lopez Sineneng, is set to hit the big screen this coming February 27.