Sheron Dayoc announced via social media that he already resigned as the director of "Children of the Lake," the movie about the war of Marawi. According to the director, the film is no longer reflective of his beliefs so he decided to leave his post as its director.
"I have officially resigned from the Marawi film project Children of The Lake produced by Spring Films. My professional career started and rooted in telling the narratives of the marginalized Muslim Mindanao and this project is no longer reflective of my beliefs as a Mindanao storyteller. The producers and I have totally different perspectives on how the story of Marawi should be told," he posted on his Facebook page.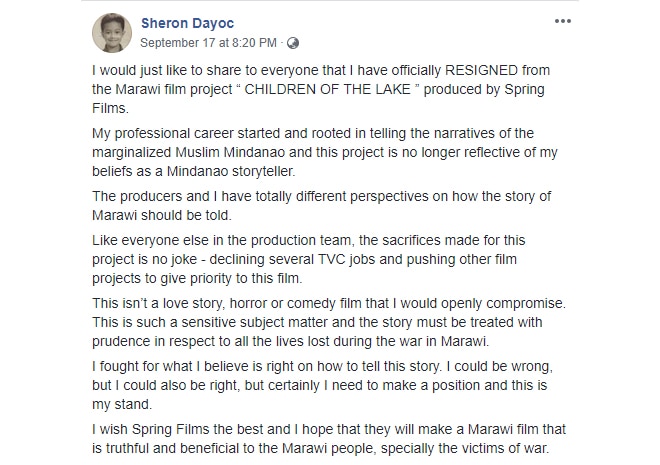 Direk Sheron remarked that this is him taking a stand. "This isn't a love story, horror or comedy film that I would openly compromise. This is such a sensitive subject matter and the story must be treated with prudence in respect to all the lives lost during the war in Marawi. I fought for what I believe is right on how to tell this story. I could be wrong, but I could also be right, but certainly I need to make a position and this is my stand. I wish Spring Films the best and I hope that they will make a Marawi film that is truthful and beneficial to the Marawi people, specially the victims of war," he said.
It was in July when it was announced that the production of the Marawi movie would commence. The film stars Robin Padilla, Mylene Dizon and Piolo Pascual, Jasmine Curtis - Smith, Sid Lucero, among others. It was also that time when it was revealed that Sheron was going to direct the movie. He helmed Women of the Weeping River in 2016, the critically-acclaimed movie which told the story of the women in a Muslim community.
READ: Marawi movie project, tuloy na tuloy na
According to the Facebook post of producer Spring Films last July, Children of the Lake would be entirely shot in Marawi City, Lanao del Sur. "It will also feature the people of Marawi who are still living in the city, real soldiers and other personalities," the post stated.
The movie's tentative premiere dates next year are on May, the anniversary of the Marawi siege, or on June 12, Independence Day.
According to Spring Films, all proceeds of the movie will go to the rehabilitation of Marawi City.