With the multitude of shows and events happening in the city, it's sometimes hard to decide which ones to watch, especially when you're deciding between catching a concert, a movie, or a theatrical production. But that should not be the case with Front Row Entertainment's re-staging of the Broadway play and Tony award-winning production M. Butterfly. Here are our top five reasons why M. Butterfly is truly a worthwhile experience you shouldn't miss as it runs until the end of September.
1. It's a different kind of love story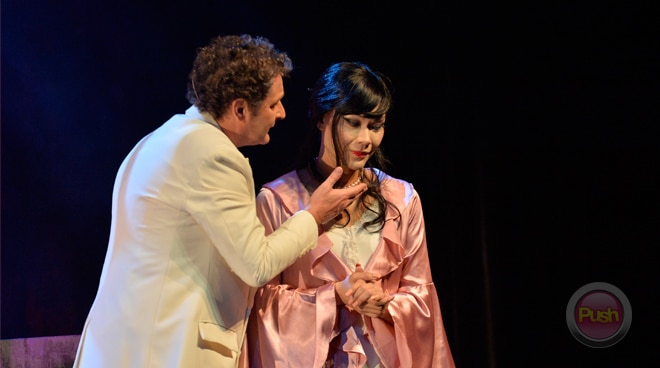 M. Butterfly chronicles the peculiar but engaging relationship between married French diplomat Rene Gallimard (played by French actor Olivier Borten) and a mysterious but irresistible Chinese opera singer named Song Liling (RS Francisco). The point of view of the play is based on Gallimard's fragmented recollection of their 20-year affair.
2. It's a production worthy of a standing ovation
From the lead actors which also include actor Lee O'Brian who play's Gallimard's French best friend as well as an equally talented ensemble cast that also includes Norm Mc Leod, Rebecca Chuaunsu, Pinky Amador, and Maya Encila, the ensemble definitely make their presence felt with every scene they have.
3. Each show is for a good cause
As a Front Row production headed by Jhett Tolentino and directed by Kanakan Balintagos, M. Butterfly further sets itself apart from other local productions because proceeds from each performance will be sent to a chosen charity. Some of their beneficiaries include the Philippine Animal Welfare Society (PAWS), Habitat for Humanity Philippines, 1Meal Program, and Hope for Change Foundation, among others.
4. RS Francisco is a revelation on stage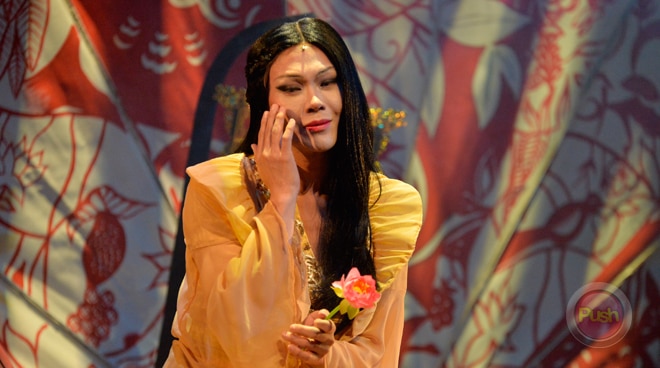 Although his character Song Liling's big reveal during the last act of the show might not be such a surprise to loyal fans of the play, RS still manages to inject new life into the role he first played as an 18-year-old as part of Dulaang U.P. Newer and younger audiences will still find it hard not to be captivated by the chameleon-like male performer masquerading as a Peking opera diva on and off stage.
5. M. Butterfly teaches a lesson about how truly complex love can be
All other issues aside, despite the problematic affair between the two lead characters, their love for each other persists despite all odds, defying questions on morality, homosexuality, and even nationalism. M. Butterfly may not come in the form of a formulaic romantic comedy or drama, but it still presents to the audience the many complex faces that love can take within a relationship and the accompanying lessons that come with it.
M. Butterfly runs from September 13 to 30, 2018 at the Globe Auditorium, Maybank Performing Arts Theater, BGC, Taguig.
Tickets are available online at www.ticketworld.com.ph/mbutterfly